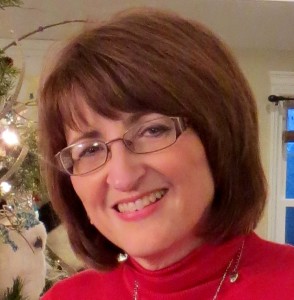 Hello, from Jane Wilkes! I'm the owner and designer at Janie Carroll Designs.
Personally, I've been married 30 years to my high school sweetheart. Our marriage works because of our mutual  Christian faith, love of family, and because the rocks in his head fit the holes in mine! We have 3 young adult kids; 2 sons and a daughter.  My family has always supported my sewing  – encouraging me to buy better machines and putting up with the mess of fabric and projects.
Where did I come from?
I am from Kansas City, Missouri – the heart of America! When I was 6 my baby sister arrived & I was happy to help Mom pick out adorable little clothes for her. Through my school years I excelled in academics, played the flute  and was a long-time Girl Scout. My mother made me sew on all my own badges and I was very proud of them, too! I had badges for sewing and needlework, of course!
Sew…what about my sewing history?
I was spoiled to have a grandmother that was a sewing wiz!
Here's a ltitle horse she made for me eons ago, recently helping out one of my models
The year I was 10, Grandma had a stroke and Mama panicked; deciding that one of us had to learn to sew. She enrolled me in a Singer class for girls and I've been at it ever since. When  I made my first swimsuit on a straight-stitch-only 1950's machine, Mama upgraded me to a 12-stitch Kenmore for my High School graduation. I made my wedding dress in 1986, spurred on by my best friend. All the encouragement I received was key to my confidence.  I hope I can encourage you to have faith in your abilities, too! Through the years I've done just about every kind of sewing. For 26 years I was a children's wear accessory buyers for Chocolate Soup, Inc. This was a career that I adored and it kept my creative spirit satisfied.
Here's my family nearly 20 years ago…These star print outfits were a favorite!
Here are my kids a little more recently…My darling daughter coordinated her brothers for this surprise photo session for a Christmas gift for me.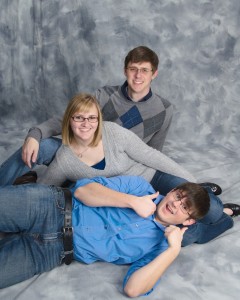 and here is my husband, Tom and I, with our little Gracie, one of our 4 little dogs…
Back to sewing…
When my niece went ga-ga for American Girl dolls I found I love to sew for these dolls! So much can be done with a small yardage! That doll won't ever 'talk back'.  I can use high-quality new or recycled fabrics & trims without breaking the bank. I can take the time to use the best sewing techniques. Each outfit I complete is my new favorite, but I really love fancy gowns like this one: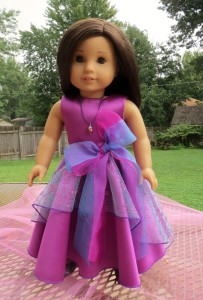 After showering my niece with doll clothes I needed to sell the excess. I simply did not want to stop creating just because her dolly closet was bursting at the seams! I started with craft shows and then added an etsy shop. I also found the magic of Facebook and connected with wonderful sewing friends around the world. Currently, I still sell through all these venues. I welcome custom orders and sell quite a few cheer uniforms and recital costumes to match outfits belonging to little girls. It's a challenge to see what I can do.
Visit my business Facebook page to see what I'm up to currently: https://www.facebook.com/JanieCarrollDesigns/
After requests from Facebook friends, I published a few of my designs for 18″ dolls. You can find those for sale in my etsy shop here:
https://www.etsy.com/shop/JanieCarrollDesigns?ref=hdr_shop_menu
My patterns have proven popular with sewists of all skill levels. You'll find simplified shapes and construction techniques with tips to bolster your confidence, as well as your skill set! My patterns are written in a conversational style which I hope will motivate sewists to success and joy. Learning to publish my patterns is an ongoing education for me. We are never too old to learn something new!
That explains my love for sewing and my business but why a blog?
Because I'm a frustrated, would-be writer and teacher!
I'd love to share what I've learned in 40 plus years of sewing. I love these dolls; with their fresh-scrubbed good looks and their willingness to wear what I make for them! I can't wait to tell you all about my latest projects and share my frustrations and victories in dolly sewing!
One last thing…
I never completely 'map out' a project before beginning.
Let's just jump in and see where we end up!