I would prefer to just
SEW
all the time.
Only problem is?
I get hungry!
Tis the season for fresh fruit specials!
That inspires me to eat more fruit.
Nothing better than a blueberry muffin,
especially when the blueberries were delightfully inexpensive!
This is a recipe adapted from an old Country Living magazine.
They started out lower in fat,
the recipe called for '2 egg whites.'
I just couldn't quite get my head around
how that would work and still taste good.
I used one whole egg, plus one egg white.
The dogs were happy to eat up the leftover yolk!
These muffins come together quickly and bake up delish.
Here's what you do, and in this order:
Turn on the oven to preheat –  400 degrees.
If you've got a convection setting, go with 390.
In a large bowl, whisk up these dry ingredients:
1 and 1/4 cup un-beached all purpose flour (why does flour need bleach?)
1 cup quick cooking oats
1/2 cup white sugar
1 t. baking powder
1/2 t baking soda
1/4 t salt
Set that aside. Using a smaller bowl,
beat one whole egg, one egg white, 1/2 c water and 1/3 c vegetable oil (I used canola oil).
Dump the liquid mixture into the dry ingredients.
Here's the important part:
Stir all of this together with a very light hand.
Do not beat this!
It's a very quick mix,
just until the dry parts are moist.
Don't worry about it looking lumpy.
That's exactly how it should look!
(If you mix this too thoroughly the muffins will be tough)
Finally, fold in
one cup of fresh blueberries ( or, frozen, un-thawed berries).
Spritz a standard size 12 cup muffin tin with cooking spray
The batter should nicely fill the tin.
Sprinkle a little pinch of white sugar on top of each muffin.
Bake for 18 – 20 minutes in a standard oven,
or 15 minutes using convection fan.
Eat and enjoy!
Remember:
These are only low fat if you eat them reasonably.
Twelve muffins is not a single serving!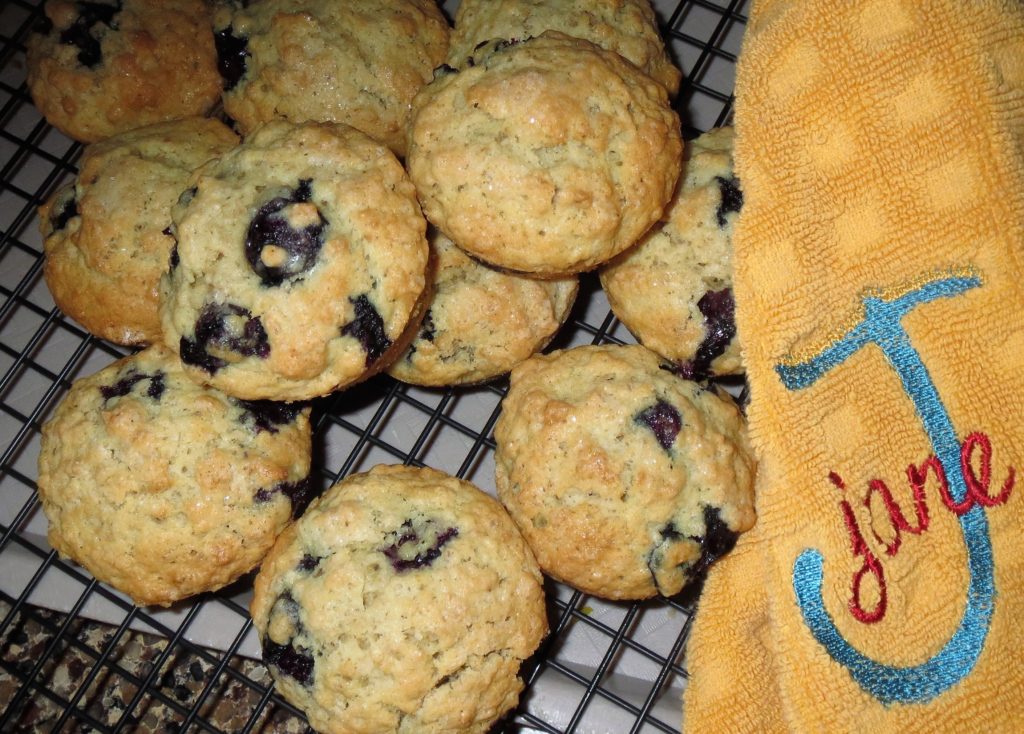 Yum.
J is for Jane.
Back to sewing!