I'm excited to be part of the blog tour for a wonderful new book!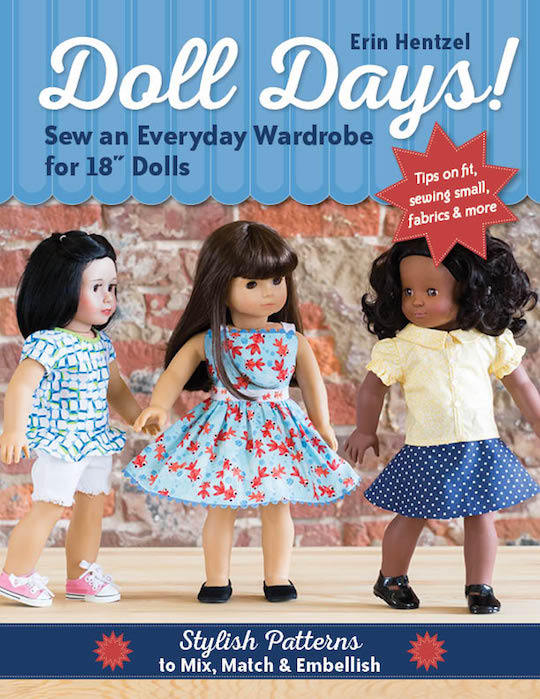 Doll Days, which features patterns for 18″ doll clothes
is written by Erin Hentzel.
Erin is the owner and designer of Avery Lane Patterns,
as well as a
dear Facebook friend of mine.
I am thrilled to say this is her second book!
Her first book, 'Sew in Style'
was geared towards kids learning to sew.
It featured a variety of garments and accessories for 18″ dolls
along with sewing definitions and basic 'how-to' information.
It's a fabulous book and great for beginners of any age
interested in sewing for 18″ dolls.
The NEW book, features
"modern designs that are inspired by vintage looks".
There are separates as well as some darling dresses.
The projects are a bit more advanced and the book assumes
knowledge of basic sewing skills.
I highly recommend the first book and feel this one
is a great follow-up.
Enter to win a free copy of 'Doll Days'
Simply comment below and tell me why you need a copy!
I will randomly select and announce
one lucky winner on June 28, 2016.
(EDIT NOTE: THE BOOK GIVEAWAY HAS BEEN COMPLETED. OUR WINNER WAS CHRISS!)
(U.S. address will win a hard copy of the book; an international winner  will receive an e-book copy)
Naturally, I got right to work stitching up
a few garments to test these patterns out!
I fell immediately in love with the vintage party dress.
Here's the first one I made: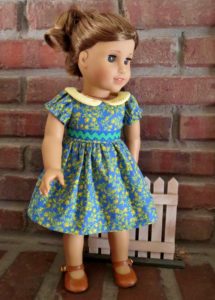 I added a band of wide bias tape around the waistline
and top that off with a row of rickrack.
Otherwise, I followed the pattern instructions as written.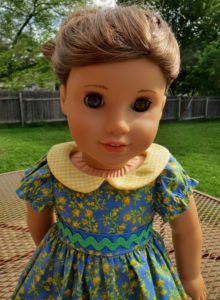 The fit was great on Rebecca and the dress
is just as darling as I expected.
I liked the slightly more open neckline and
the sweet round collar.
I think I could have stretched my sleeve elastic more
during the application process.
As you can see, my finished sleeves are a bit loose.
In the end, I thought the look of them was cute!
The second pattern I chose was another dress,
the modern/vintage sundress.
This dress had several styling options to choose from.
I opted for navy and white pin dots.
Some looped rope cording from the drapery department
gave this a decidedly nautical look.
Again – another excellent pattern. Easy to navigate the instructions
and the final look and fit are wonderful!
I cut my straps a little wider to accommodate the cording.
I also added the red knotted 'scarf' at the front.
This is nothing but a rectangle cut on the bias &
seamed with angled ends. I tied a knot, &
tacked it in place with a few hand stitches.
Outfits this cute deserve cute undergarments, too.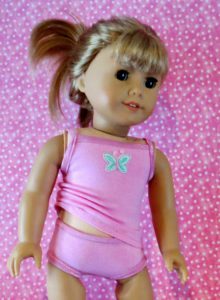 I get lots of requests for panties in particular
so I decided to give the camisole set a whirl.
I thought Erin's instructions were stellar!
She explains cutting your fold over elastic a bit longer
than the finished edge,
so that the ends of the foe can be used as 'handles'.
This is a tip I've previously found very useful,
as these elastics can be 'fiddly' to work with.
Here's the finished set, embellished with an
iron on applique from JoAnn fabrics.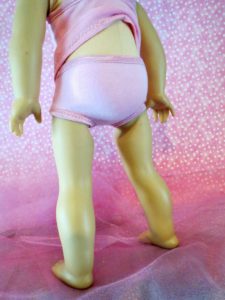 Don't these little panties fit fantastically well?
These won't be 'bunchy' under any of her clothes!
What to sew next?
It's difficult to choose!
Sewing friends tell me that the shorts are
particularly fabulous!
The scallop edging on the skirt looks awesome, too.
Thorough instructions should make this specialized look
much simpler to sew!
If you are sewing for a recently made American Girl brand doll
you will find the fit to be perfection!
Options abound for embellishment.
Instructions are excellent.
What more could you ask for?
Here is the full listing of the blog tour with dates.
Be sure and visit any you missed, Erin has included some
wonderful pattern additions among them!
Well, shucks! What if you don't win a free copy?
Purchase your copy from Erin at www.averylanesewing.com
or on etsy at www.etsy.com/shop/averylane
or even through amazon here:
Thanks Erin, for a wonderful book!
June 13 Erin on C&T
June 14 Amanda on Jedi Craft Girl
June 15 Erin on Dear Stella
June 16 Karen on Karen Mom of Three
June 17 Erin on Sew Mama Sew
June 20 Lindsay on Lindsay Sews
June 21 Jane on Janie Carroll Designs
June 22 Bonnie on Fishsticks Designs
June 23 Tracy on Generation Q Magazine
June 24 Rachael on RJR Blog
June 27 Cherry on Cherry Blossoms Quilting
June 28 Erin on Avery Lane Sewing
Save
Save