Continuing to work on
the Super Skort Plus pattern in various sizes.
Focusing on the next size to release,
Hearts n Squirts
This will fit American Girl/Mattel brand Wellie Wishers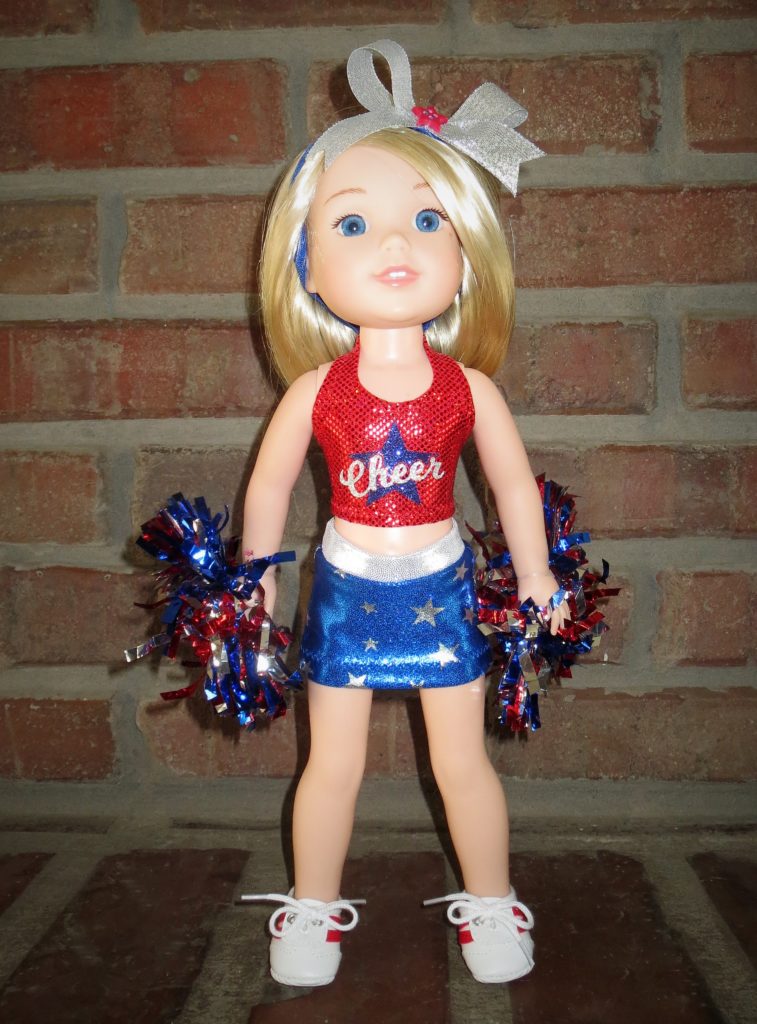 with cutting lines for the Hearts for Hearts doll, too.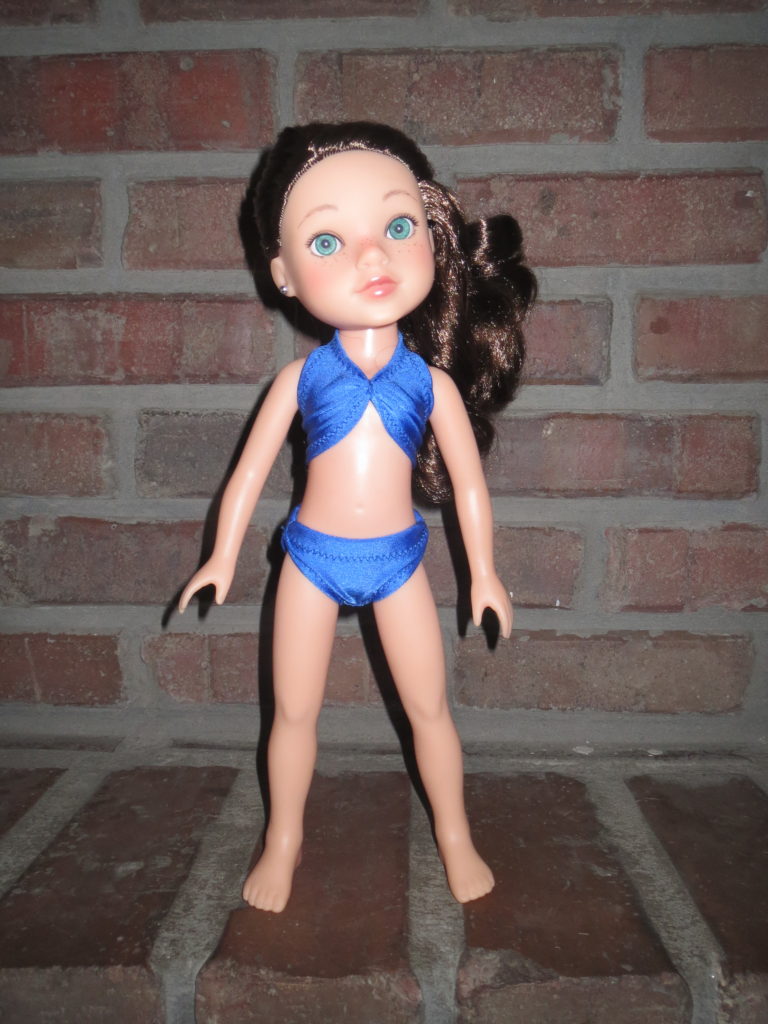 Final testing is done, but I'm continuing to finish samples to show buyers
just what they can stitch up with this pattern.
Like this one…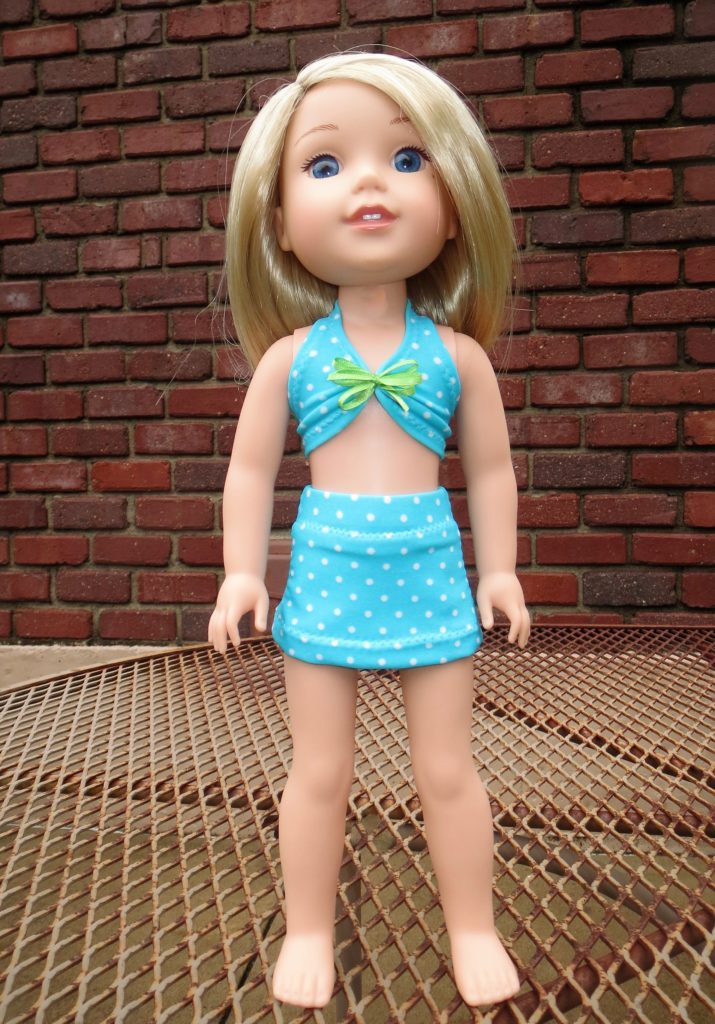 Here's the outfit I made today, in its unfinished state.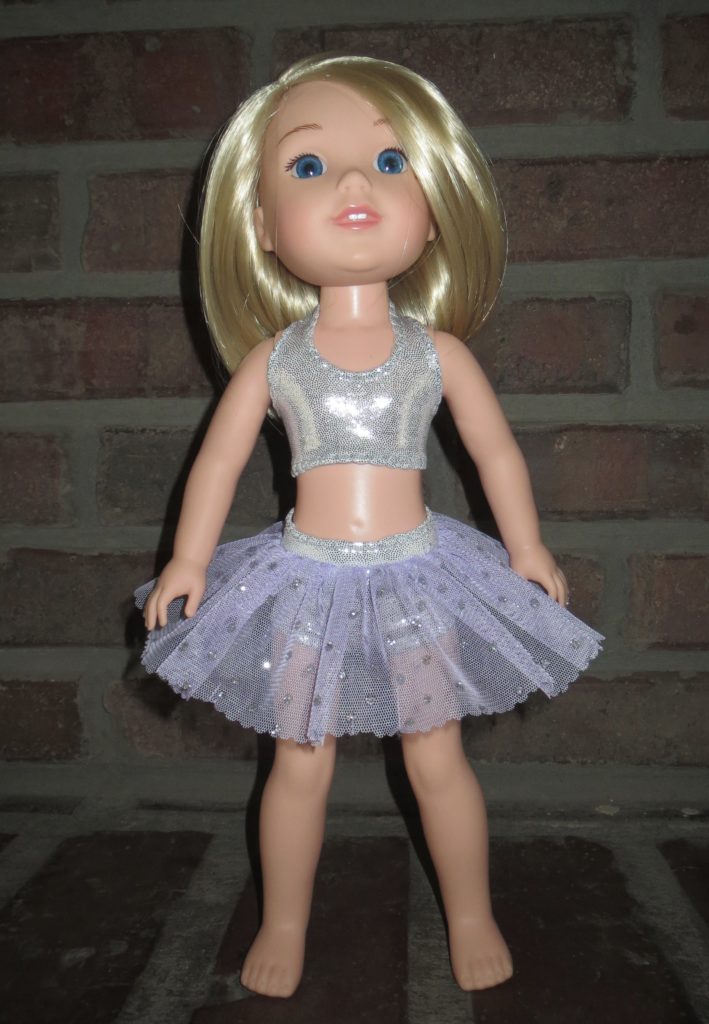 So far, so good, I love the picot stitching around all the finished eges.
Hint: Reduce the length and width of your picot stitch setting just a touch for this smaller doll.
What you see here is the 1.50mm length and 5.5mm width.
It's tough to beat the picot stitch for adding finesse, but it's still too
PLAIN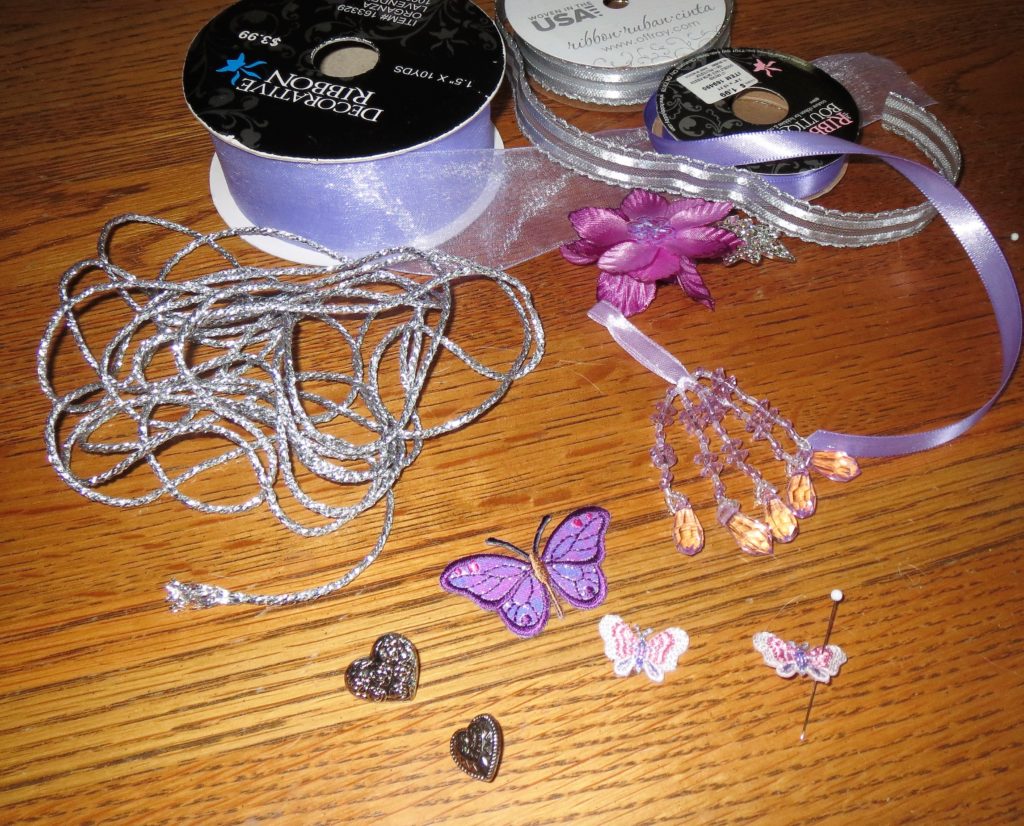 I went hunting through my buttons, trims, appliques, and ribbons
and I found an assortment of possible
ideas for jazzing this up a bit.
It's a funny thing about purples –
they are difficult to match!
I thought we could go through the selection process together!
Sound good? I'll photo a few ideas and we'll talk about
what works….and what doesn't.
First up: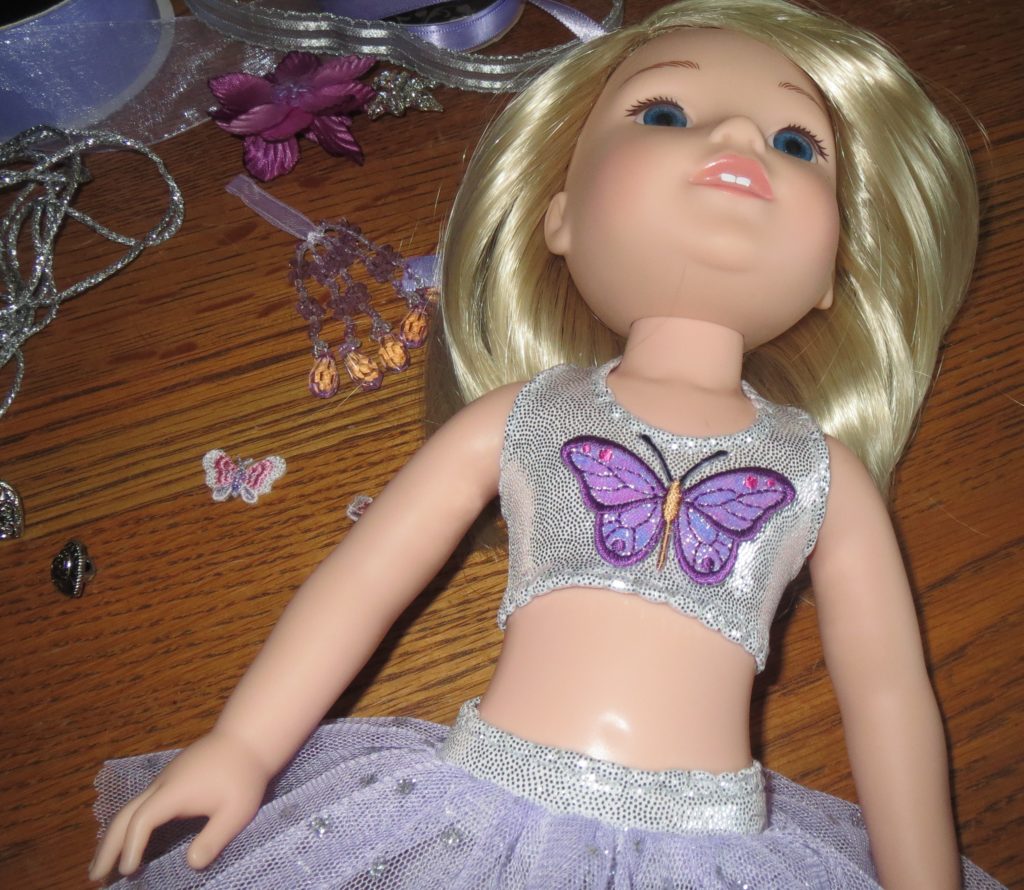 This shimmery purchased butterfly applique.
It's not a definite 'no' but it was not my favorite.
I felt like the colors were a bit too bright, which overpowered the delicate lavender mesh.
I also thought the size was a bit too large, though I often like oversized things.
Let's try something else —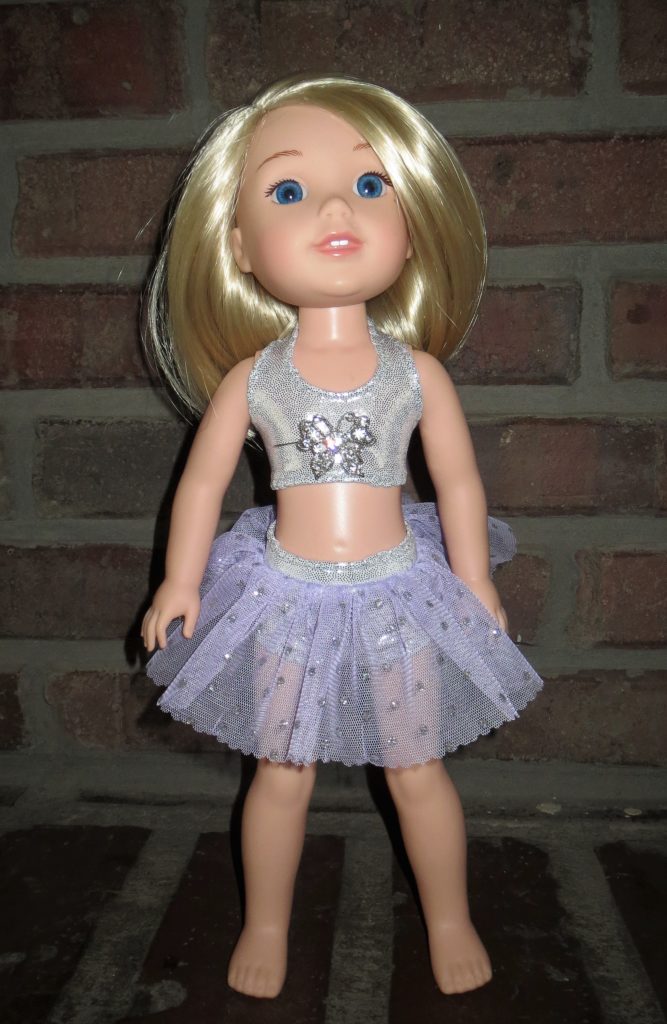 This faux crystal button (from Hobby Lobby)
is a good option. It definitely works.
I decided against it for a couple of reasons.
First, it would add extra expense to the garment's cost and thus, raise the retail price.
Second, It was just a bit heavy for this delicate garment.
Lastly, it felt a little too grown up for this juvenile doll.
Back to the idea pile…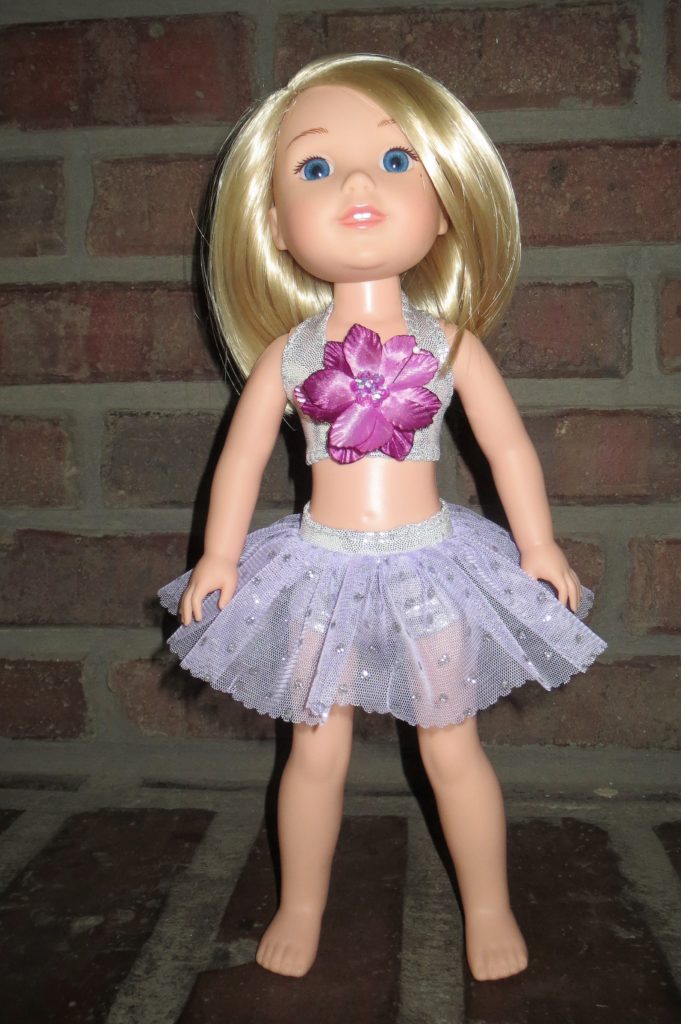 A silk azalea with sequin center was my next try.
It's actually much prettier than this photo and the color is not so jarringly different
but it was still a bit too much, over all.
Too bright and too large.
hmmm….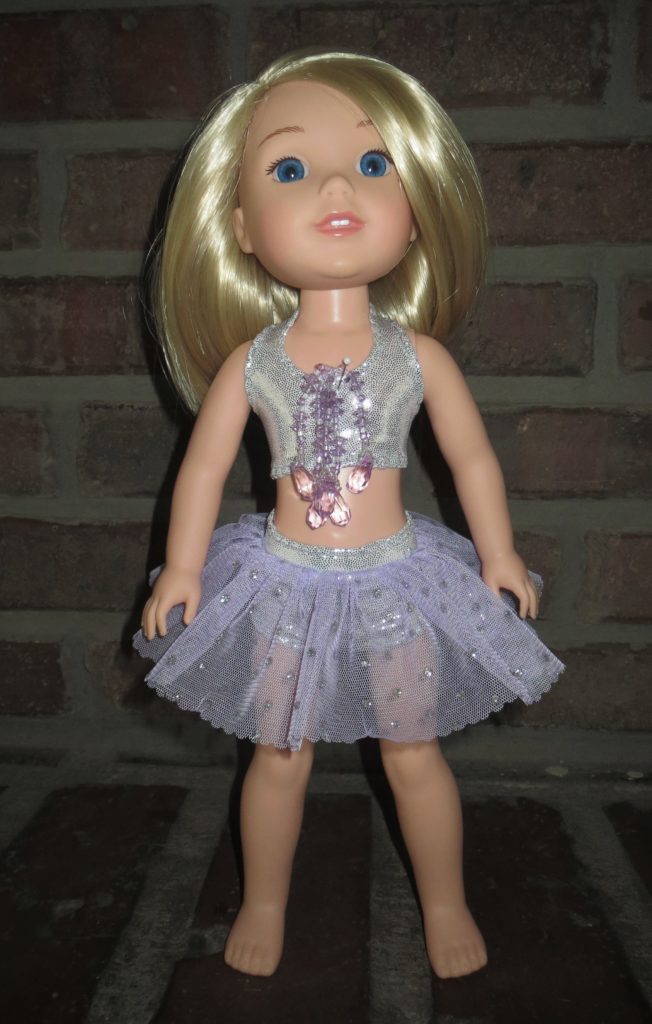 This beading got rejected, as being too long and too delicate.
The color is perfect, though it doesn't photo well.
I've ear-marked this for a similar outfit in the 18″ doll size.
The scale of it will work better for the AG doll.
What else did I reject from our original photo of choices?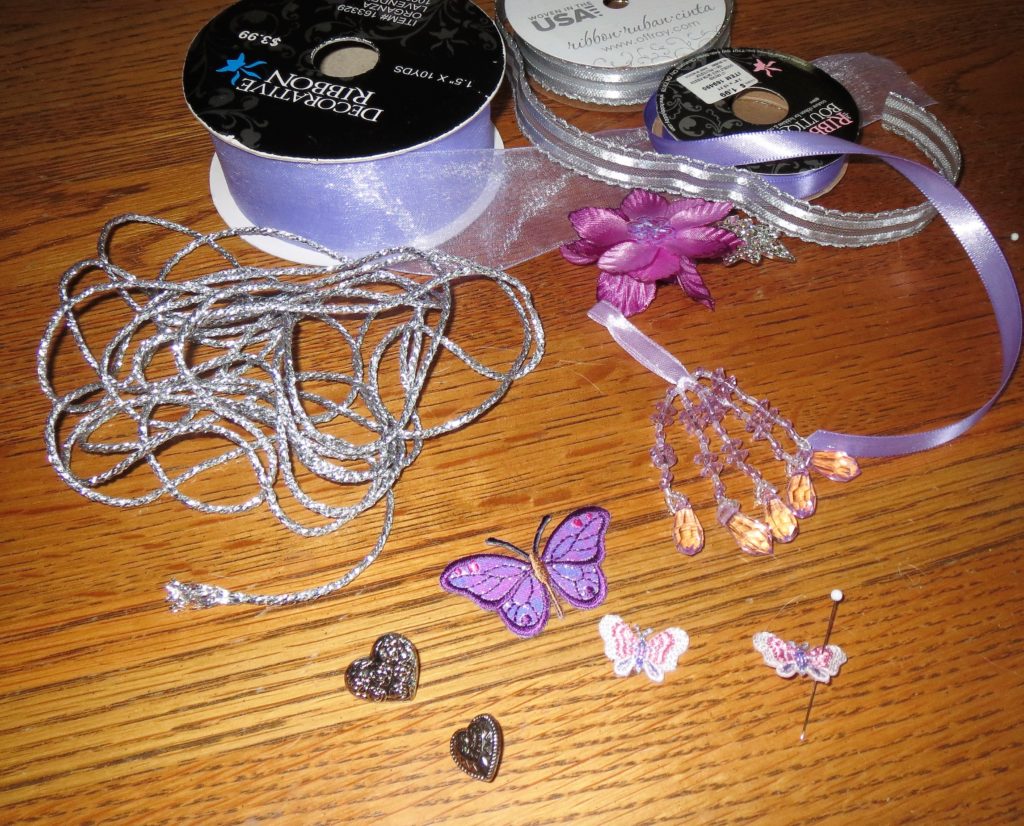 The embossed silver heart buttons might have worked but I wanted something with a bit more detail.
The gun metal silver ribbon was too stiff for garment bows of any kind.
it will make good hair bows for other projects.
The sheer lavender ribbon was not quite the right shade.
A little too cool for the skirt mesh.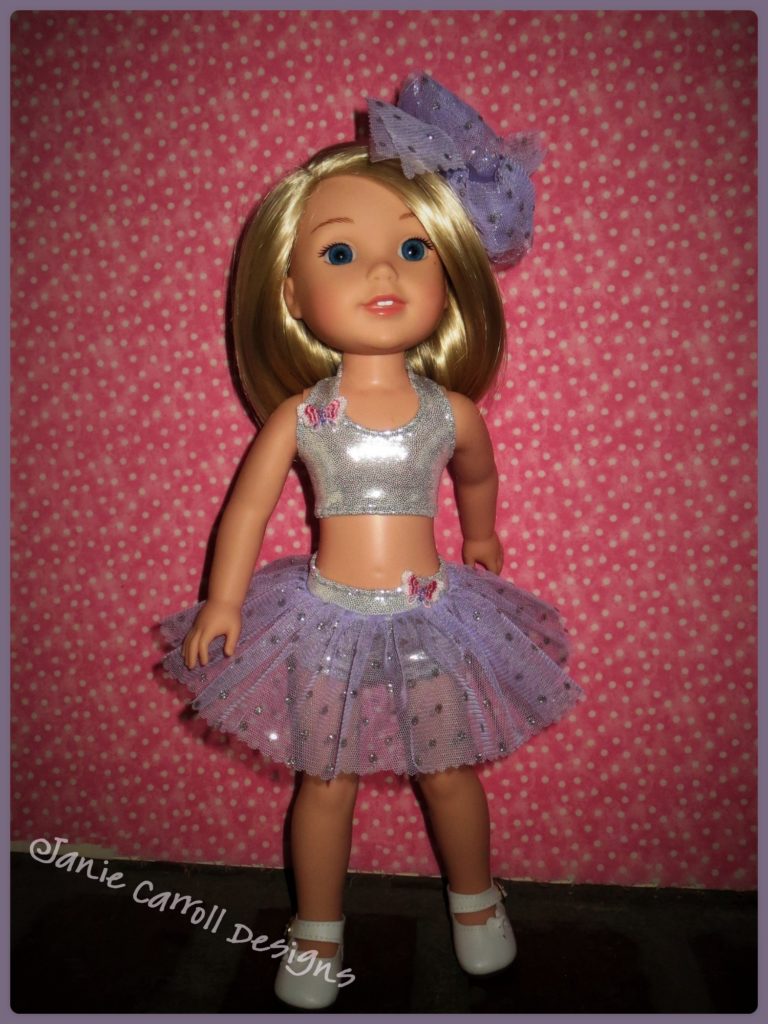 I finally hit on a winning combination.
These tiny pre-embroidered butterfly appliques were perfect.
Having been purchased at a church rummage sale, the price was right.
The sizing was correct scale for our doll.
They'll be suitably durable for younger children to play with.
The pink and lavender color combination was beautiful with
the silver and lavender fabrications.
I tried several locations by pinning these in place.
I loved the cross-body balance of using
one on the halteriffic tank top
and one on the flirty spanky-skirt waistband.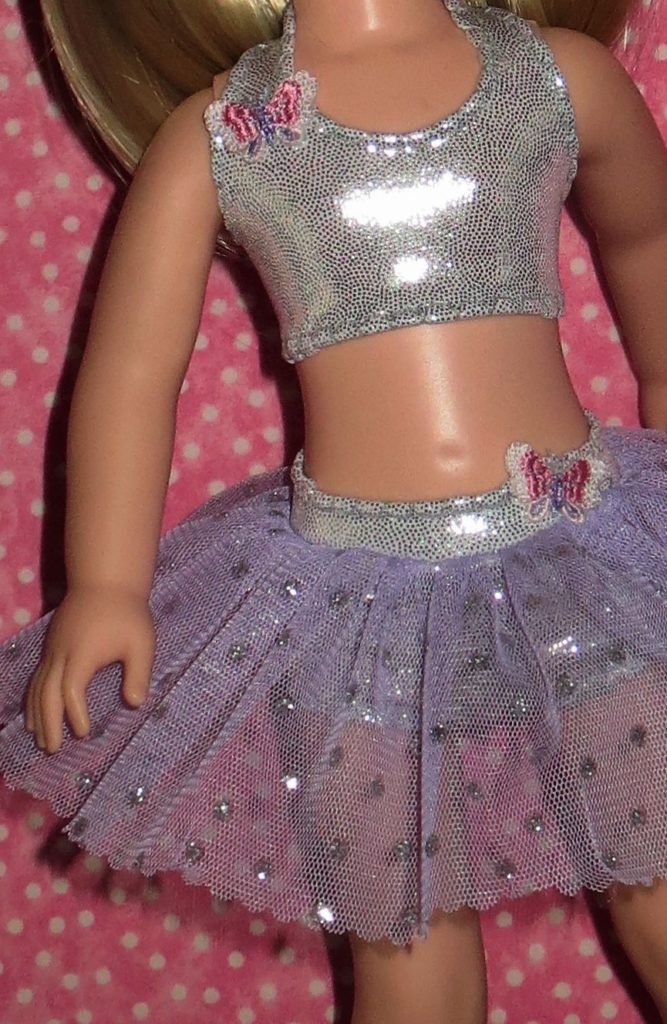 The appliques were hand stitched in place. You may have noticed that I pre-trimmed the lower hem edge of my skirting mesh when it was originally cut for the outfit.
This edging achieved with a scallop edge shear in the 5mm size.I hope you've enjoyed this little tour through the process of choosing final elements.
The hair bow was made with a layer of that sheer lavender ribbon with a top layer
of the skirting mesh, cut with scallop edge sheers to a matching width.
The ribbon underneath supports the soft mesh perfectly.
Finding perfect trims?
It is less about genius
and more about trying things until something works!
Watch for the Super Skort + pattern for Hearts n Squirts.
Should be out within the week!
Happy sewing!