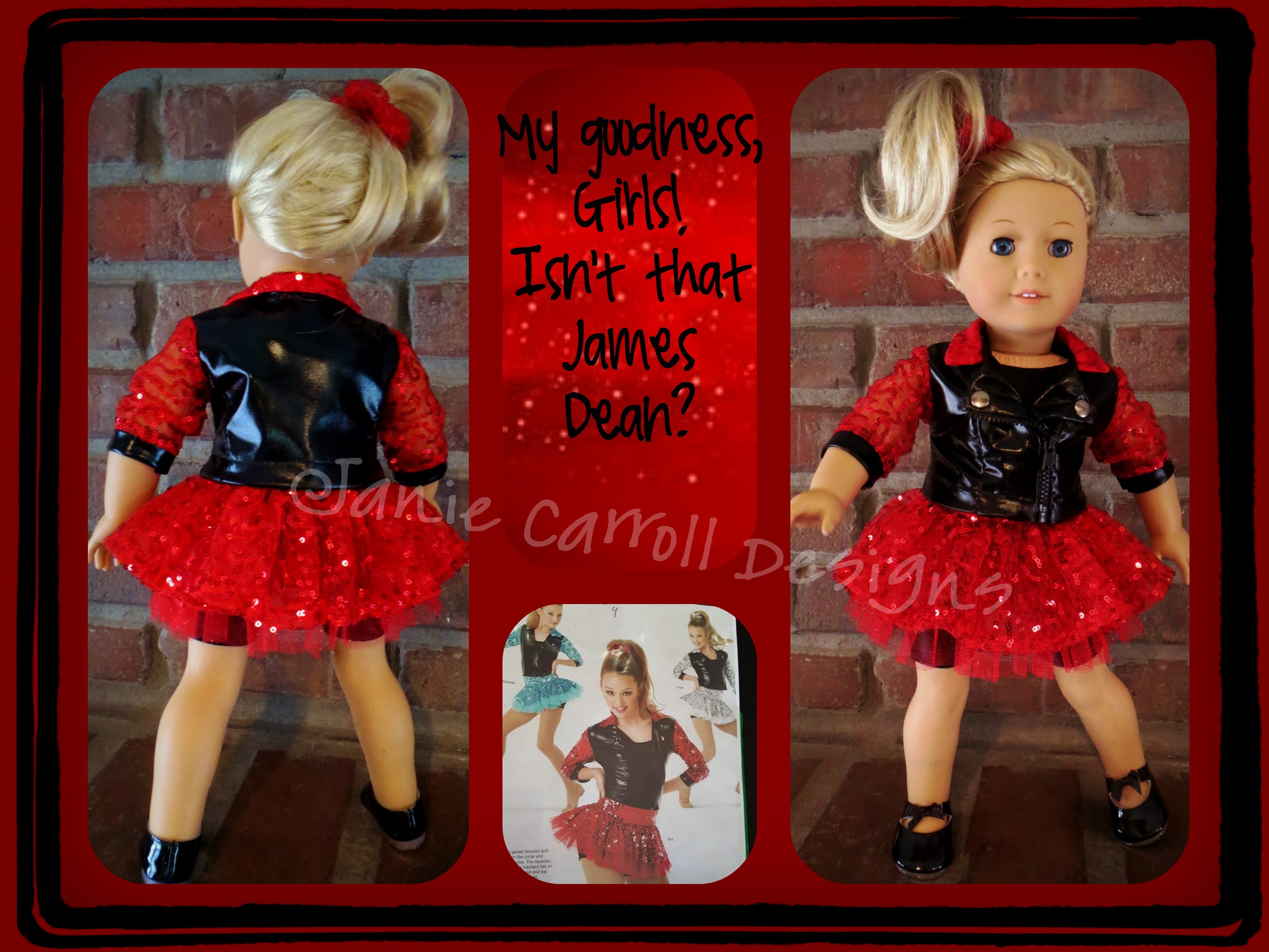 Love this little outfit? Want to make a similar costume yourself? Here's the Lifeline of a custom order…
I love to take on custom projects. It can be very rewarding. If you're in the business of sewing doll clothes you may be contemplating accepting custom orders. Perhaps a friend has asked you to make something special and you're feeling apprehensive. I say, Go for it! Still, there's at least one moment in almost every custom in which I ask myself:
'Jane! What on earth were you thinking'!
Well, pull yourself together, you can do this! There is always lots to love about custom orders. Customers are willing to pay a fair price for a customized item, and that allows me to add the little extra touches that make a garment really special. There's also the customer satisfaction factor. Everyone loves a custom order! They beam, they applaud, they refer their friends! All wonderful, but it's a hidden benefit that I love the most. I've learned that custom orders push me to new levels in sewing. I try new fabrics, tackle difficult patterns, or draft my own patterns. I learn so much, and I finish feeling victorious! Left to my own devices, I doubt that I'd ever take on a motorcycle jacket in a stretch pleather fabric – let alone one with sequin-sheer sleeves and a separating zipper. LOL. Guess what?
I can do it and 'SEW' can you!
Begin with your inspiration: This outfit started from a catalog picture of a child's costume made by Weissman. By hunting online I even found a video clip of the outfit in motion, which was very helpful! You can see it here: https://www.weissmanscostumes.com/all_costumes/8699.aspx?position=27
Before accepting any custom order, or giving a pricing estimate, make sure you can source the needed fabrics and trims. Trust me on this. Manufacturers get fabrics and trims made to their own specifications and these items may simply not be available for your purchase. Or, you may find the needed items – with a 6 week delivery time, a big price tag or an impossible shipping charge! Fore-warned is fore-armed. You can adjust your price, or simply decline the order if the numbers are not workable.
Break the project down into manageable steps: I sometimes find myself procrastinating on a custom order that is intimidating for any reason. I've learned to start with the simple things first. In this case, a black biketard. This one piece garment (my own pattern) has a tank top upper cut all-in-one with bike leg shorts. (pattern is in the works as an option on the Ezy Underall). Less than 30 minutes from cutting to completion made this piece the perfect starting point!
Next was the flirty sequin skirt.  I try to make everything suitable for play; even delicate fabrics. For the skirt, this meant underlining the waistband in red satin, to give it a firm foundation.The red sparkle-tulle under-layer, and the sequin-sheer top-layer are simple rectangles cut across the full width of the tulle. To maximize hip-line 'fluff', I gathered each layer separately before attaching them to the waistband. This causes the gathered layers to stand out separately. Conversely, if you'd prefer your gathers to lay more smoothly, layer fabrics and treat as one, with a single set of gathering stitches. Your gathers will nest together neatly! Considering the more delicate nature of the sequin sheer fabric I used a large trouser-style hook and eye to close the back waistband. (no pattern for the skirt)
So far so good – where did the angst come in? Did you guess it was the slick little James Dean Motorcycle jacket? Of course. Lots to feel a bit nervous about here. The pattern, extra details, the tricky fabrics, the separating zipper – ACK! A drafting project of this magnitude would be a bit ambitious for me and why re-invent the wheel? Marilyn of QTpii doll clothing suggested the Liberty Jane Peleton Jacket pattern, which you can find here: http://www.pixiefaire.com/products/peleton-jacket-18-doll-clothes  Just the thing! With a  few modifications, largely eliminating extraneous details, this pattern was just right. First hurdle crossed!
I was fortunate to find the black stretch pleather at my local JoAnn fabrics. This had a knit base similar to a swim-lycra-blend and a vinyl like face made of pvc and polyester. Confused about needles for this fabric type? The appearance of the fabric may be leather-like, but the base is definitely knit and has a stretch factor. Additionally, that leather like appearance is deceiving. Just as in the proverbial 'skin deep beauty', pleather is only a thin surface applied to a knit base. Hence my first advice: do NOT use a leather needle. Leather needles are actually quite sharp and somewhat 'wedge' shaped. These characteristics work great when you're attempting to stitch through real leather but it would make enormous holes in lightweight pleather. I found that a universal point needle in a size 12 was quite suitable.
I expected potential difficulty in feeding the fabric through the machine. There was a certain amount of drag but this was largely compensated for by reducing the presser foot tension somewhat, which I always do for knit fabrics. There are other fixes for this problem including Teflon coated sewing machine feet, roller feet, built-in dual-feed mechanisms or cumbersome even-feed sewing machine feet. I didn't need any of them, a standard foot worked just fine. If you have a recent, entry-level machine you may not have any option for adjusting this presser. Consult your manual or check these sources for further info on regulating the presser foot. topic.http://sewing.about.com/od/sewingmachineindex/p/pressure.htm or here: http://www.sewdaily.com/how-to-sew/sewing-machine-basics/the-best-kept-secret-on-your-sewing-machine
Next I needed a zipper and 2 decorative snaps for the lapels. I found black separating zippers here: http://www.shopsophias.com/separating-zipper-3-pieces-per-bag/ as I liked the look of the plastic coil on these zips. I've also had good luck with zippers from this company, too: http://www.zipperthatdoll.com/dolljacketzippers.html. Zips are available with nylon coil or metal teeth. I might add that this company also sells my personal fave thin-line hook and loop product. Blessedly, I had no issues installing the zipper as the pattern instructions were quite good.
Lastly, I made a ponytail scrunchie and dressed my doll. Charlotte was happy to model this for me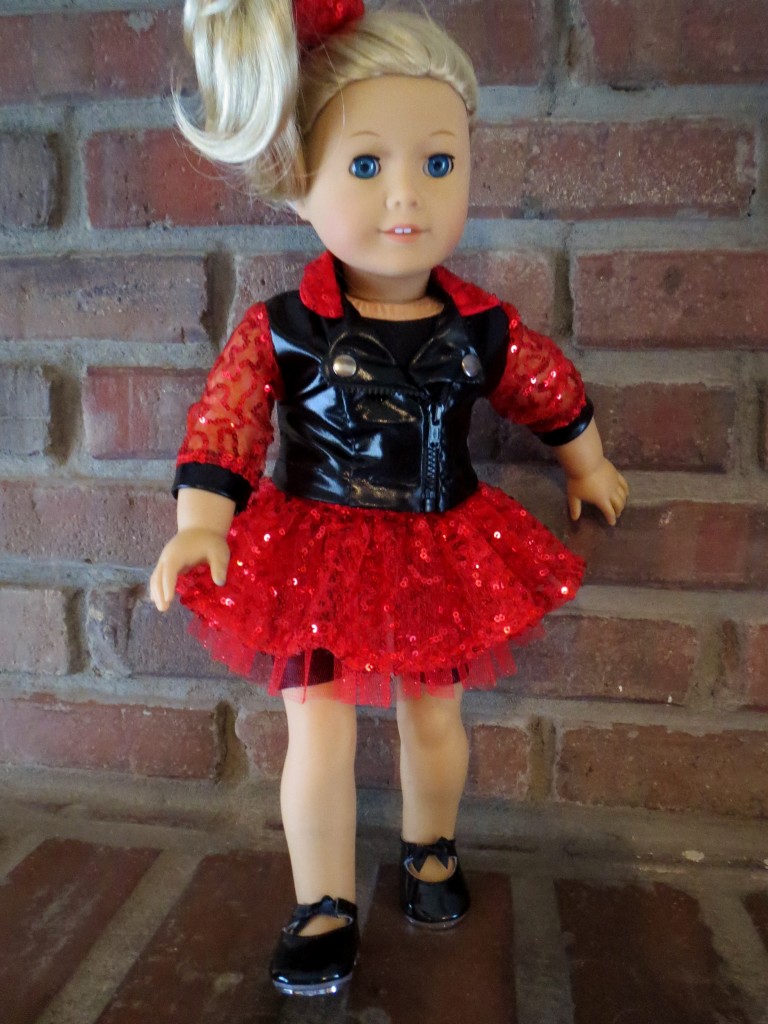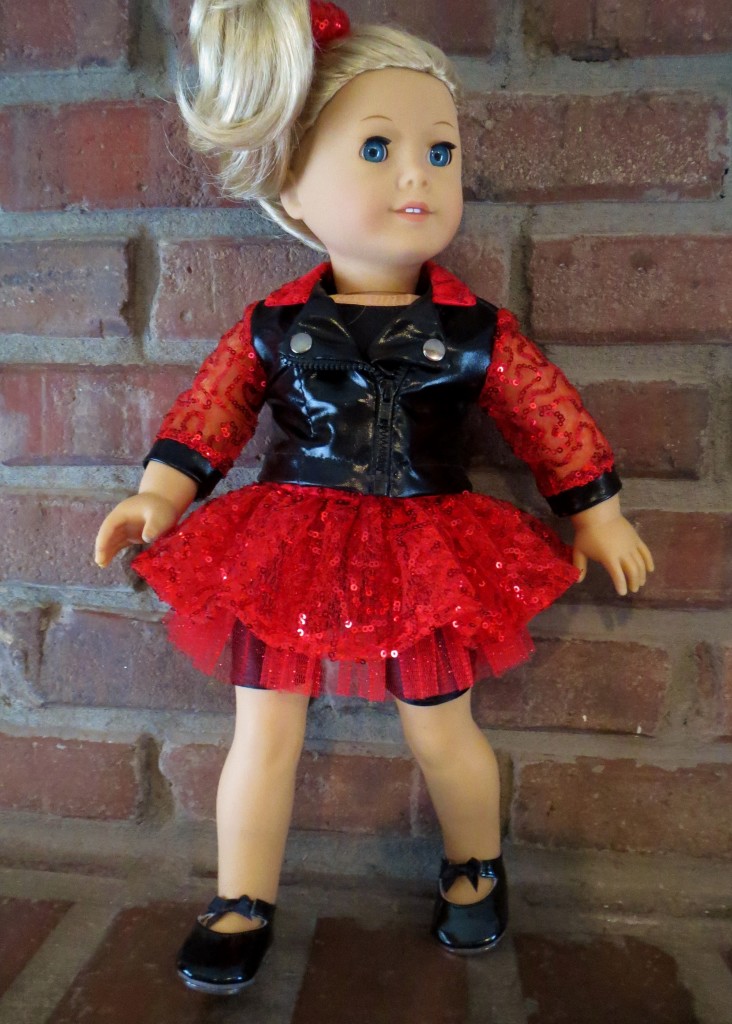 Feel free to give me your feedback on this post! I'd love to know your thoughts or questions. Back to the sewing machine!