Going to share much of a post I made for a doll page I love. Want to know a little more about me?
I cried a lot when I was little.
My dad says I screamed from the day I was born until I went to preschool.
This might be true.
I have always loved to learn and my older brother was doing everything first!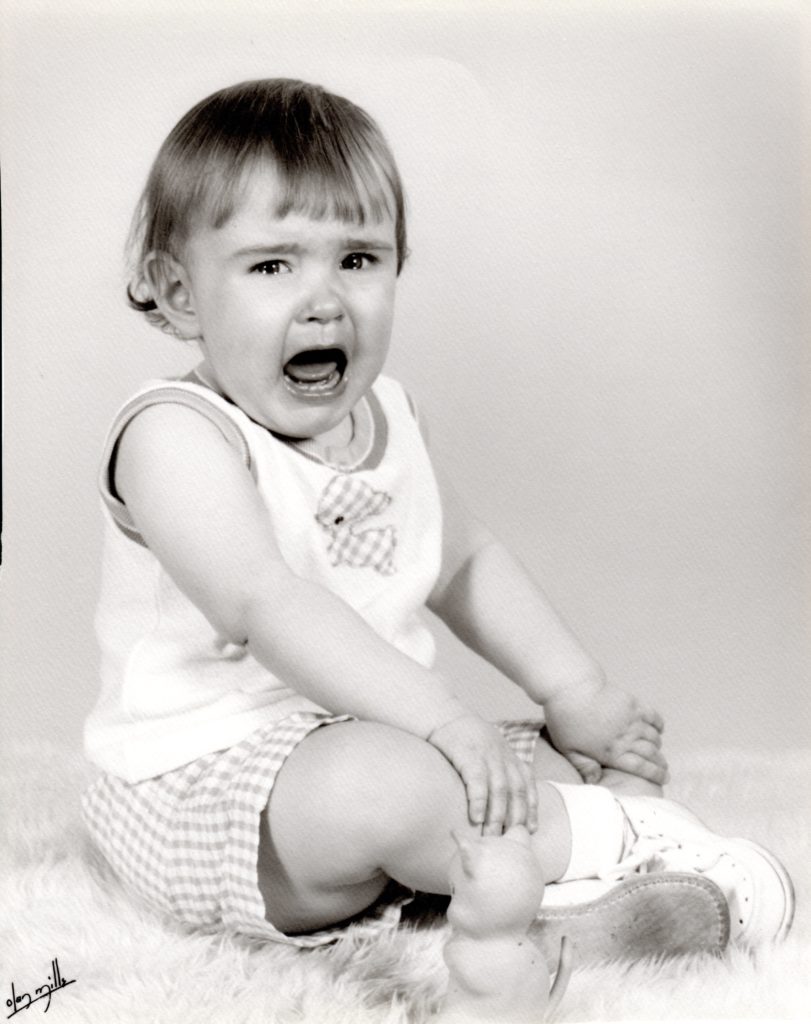 I didn't play much with dolls.
I was enamored with my Chester O'Chimp.
A charming fellow, for sure!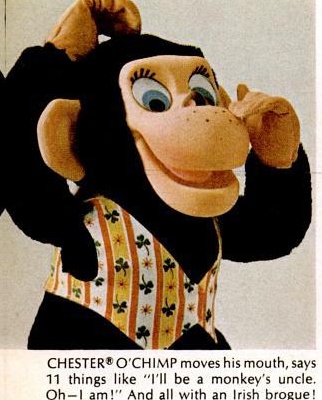 This is my brother, admiring the freaky Baby First Step
that was supposed to be my present.
But, wait!
That's me on the bicycle that was meant for Jim.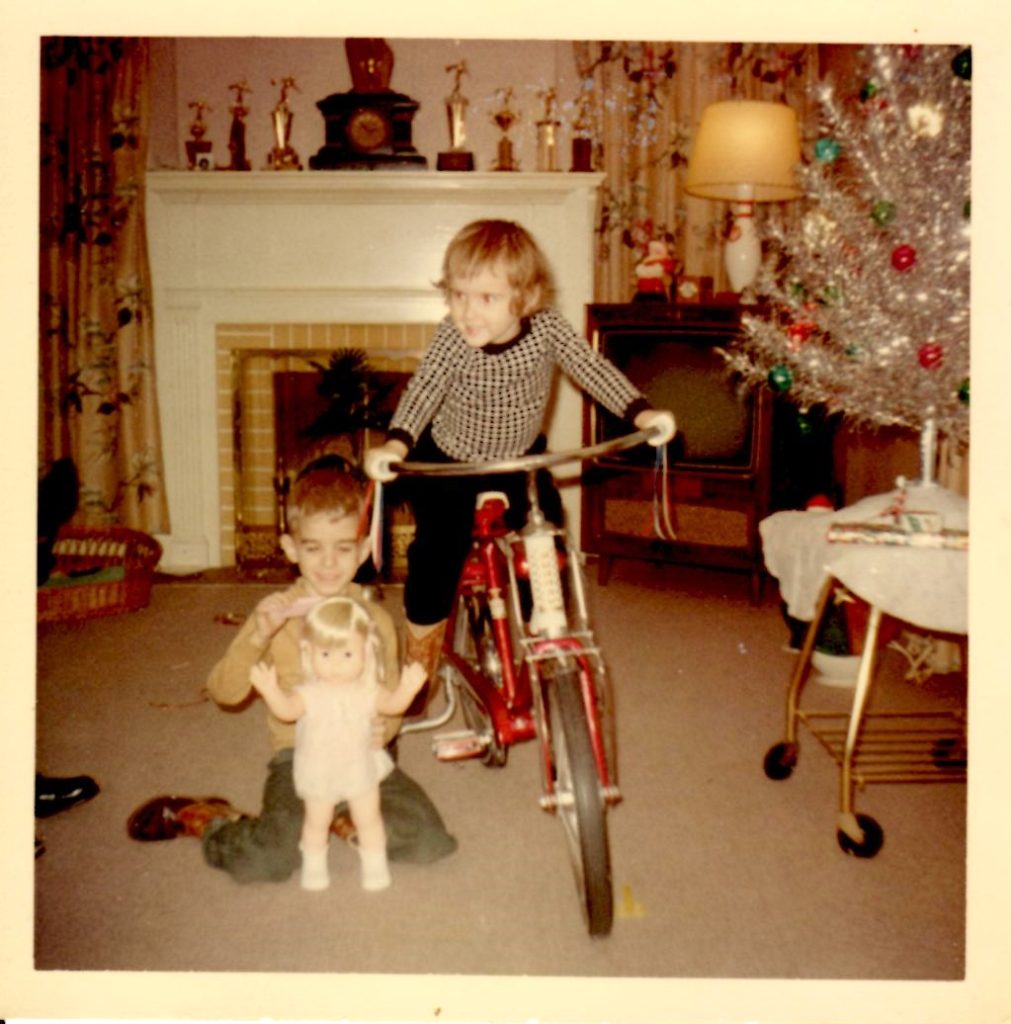 I had a few Barbies and they were usually naked, which made my mother crazy!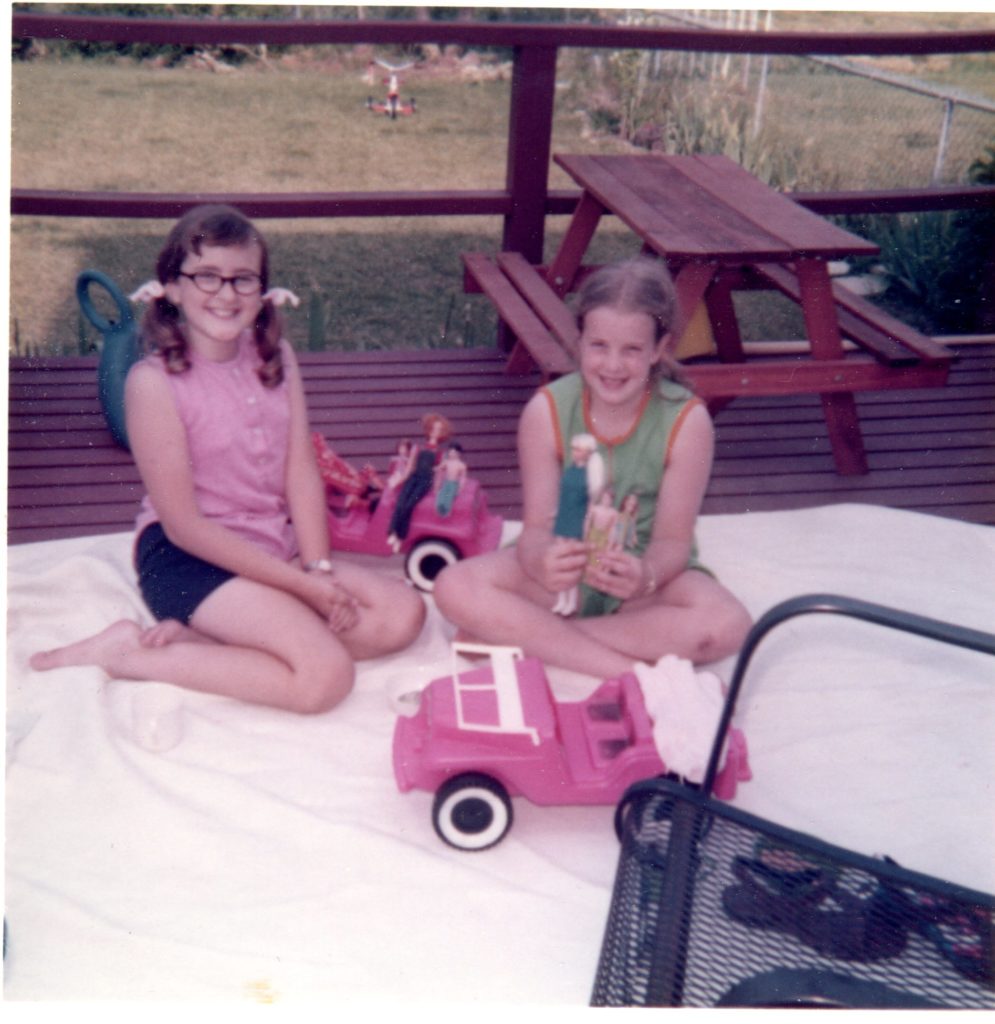 Sorry, Mom. My dolls are still mostly naked, they're waiting around to be fit models.
I started with hand embroidery when I was 5, and spent several years learning handcrafts.
I got a kit to paint wood ornaments one year and a teacher at school asked to see one. I was ashamed to show her. Truly, I have no talent for painting or drawing, etc. She taught me a fabulous trick – she took a sharpie and went over all the dividing outlines in the design. Instantly my project looked great! I believe this was the beginning of realizing that
there is usually a way to improve a project or fix a problem.
I went on to paint literally hundreds of these ornaments over the next few years, many of which I still have. My 'studio' was a corner of Dad's gun room, which we kids did not generally spend a lot of time in. He has said many times how much he enjoyed those evenings with me up there painting, and he refused to clean up my little paint accidents on the floor. (love him!)
This is Daddy and I, ready for a Brownie Father and Daughter banquet.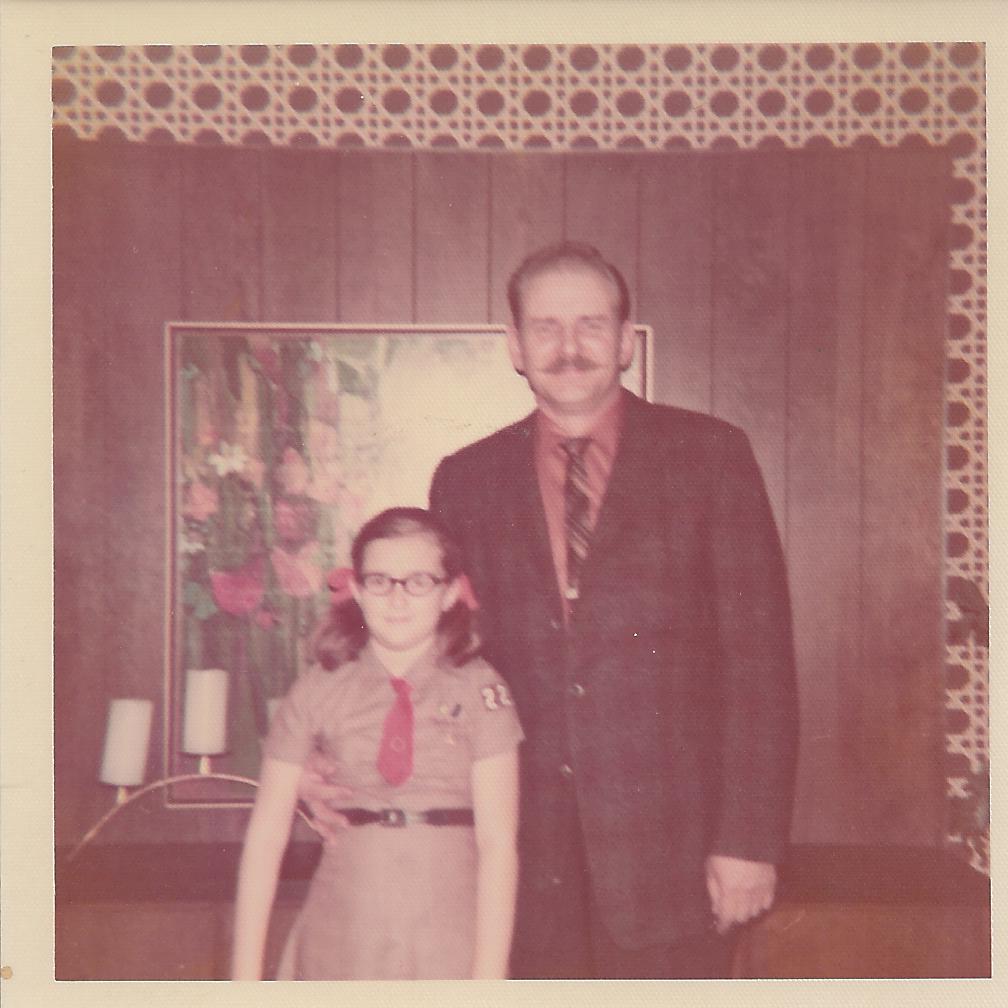 I learned to latch-hook, did a ton of crewel embroidery and covered my overalls with hand embroidery. I also sewed on all my Girl Scout badges by hand. When the uniform was changed my mother made me remove every single thing on that sash and transfer it to the new vest!
I graduated to felt Christmas ornament kits that were embellished with tiny sequins. Remember those? I spent hours on those sequins and seed beads. No glue for me! Ah, the 70's! The perfect era for hand made needle arts!
Still, I did no machine stitching until my grandmother had a stroke. She was the sewing whiz in the family. My mom panicked and put me in a Singer sewing class for the summer.
My instructor seemed to think that my 10 year old self could put in a back zipper and make a tennis dress and a pair of elastic waist shorts.
Well, hallelujah! I did, and it fit, too. Here is my daughter wearing it when she was 10.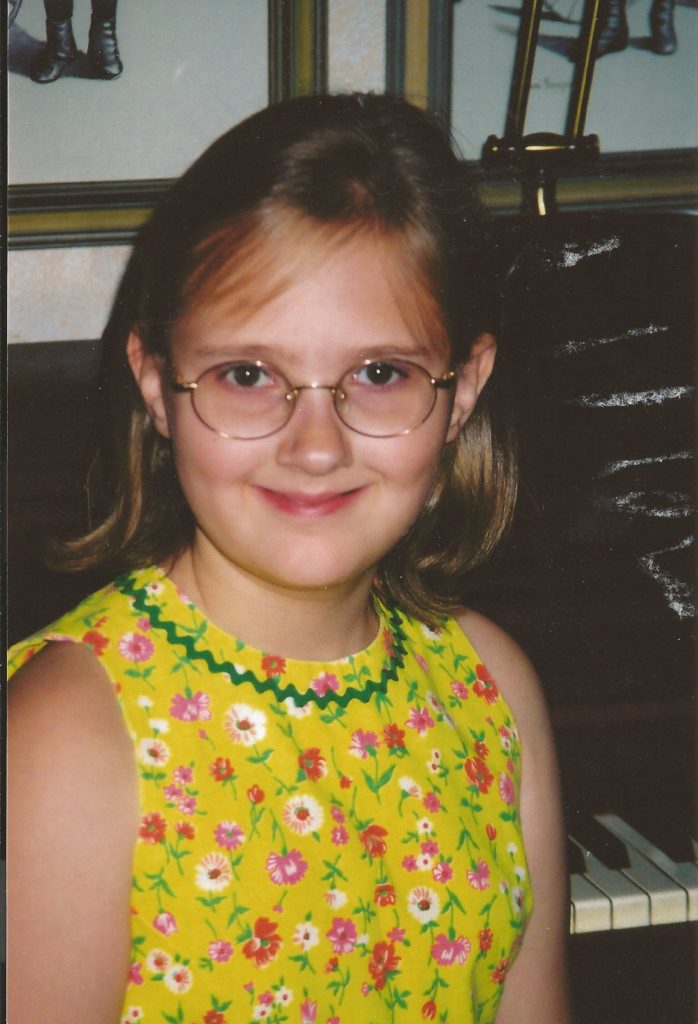 We will all rise to the expectations given us. Encourage those around you, Friends and expect something of yourself, too!
I also met a beautiful 17 year old girl with gorgeous hair. She told me, 'Tell the beauty operator that you want a shag!' I did, and I had truly good hair for the first time in my life. haha!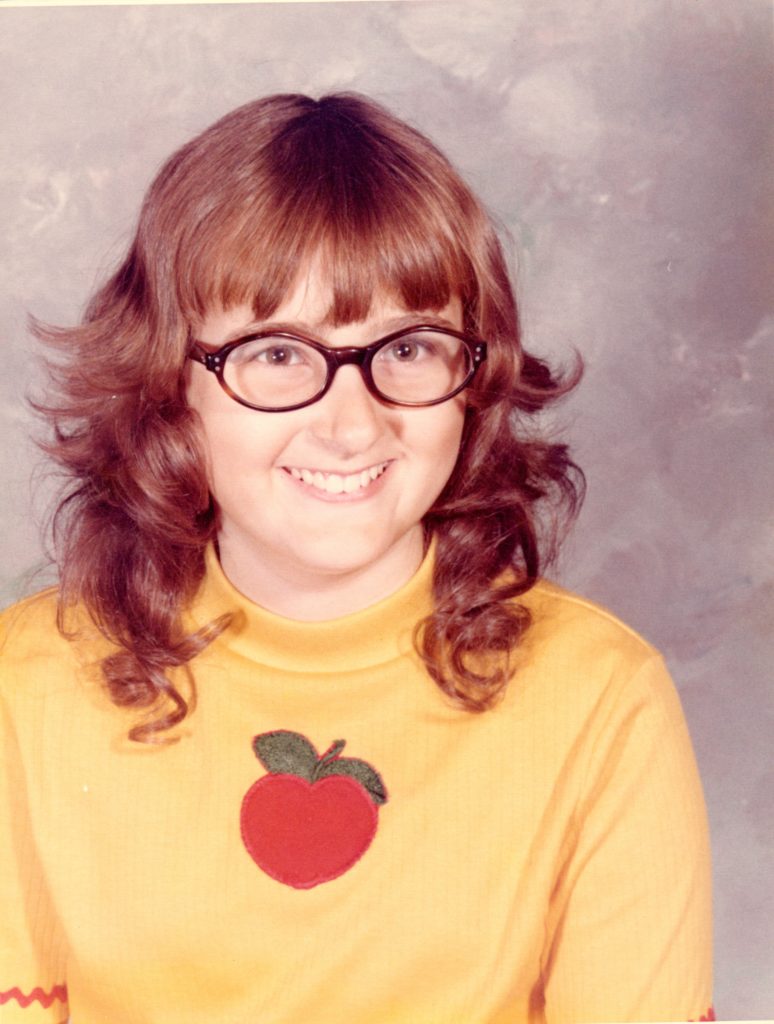 Some of this is not sewing, is it? But it's all related.
We must have confidence,
be nurtured,
be willing to try things,
and reach out to those around us.
By the time I finally got to take some sewing classes in high school I was already doing a lot on my own. My teacher assigned me to a Bernina machine and let me bring my home projects to school to add buttonholes after class. When I hear people say they will not do buttonholes? I think of this. We had a straight stitch only machine at home.
I coveted that automatic buttonholer. This pretty skirt set had buttonholes that I paintakingly worked by hand.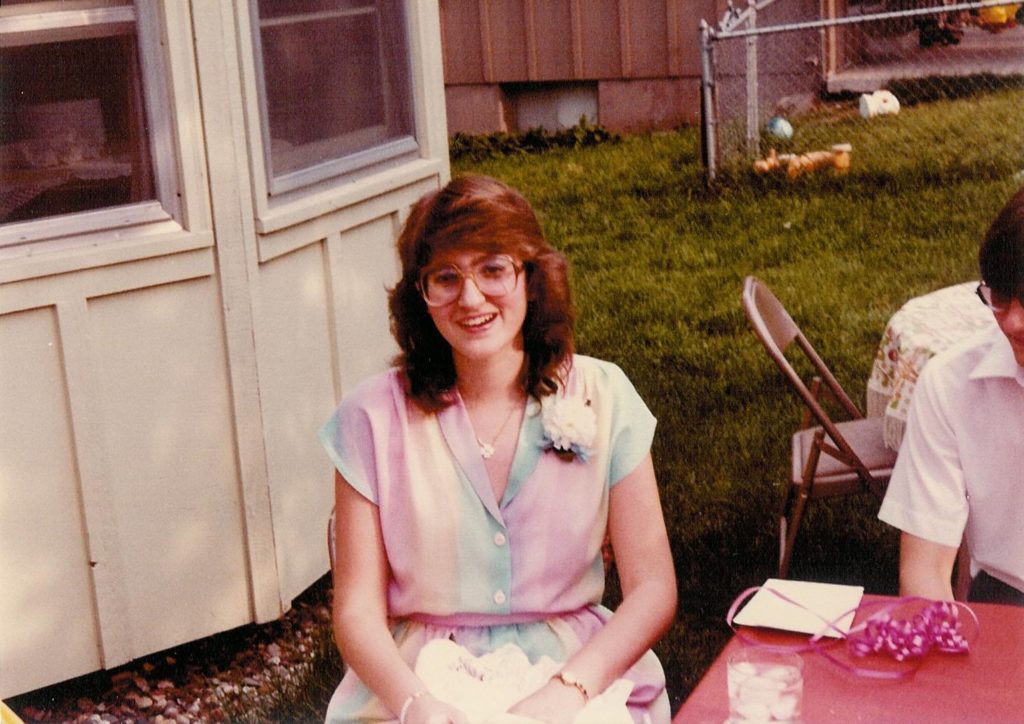 It was a wonder to me when my mother bought me a 12 stitch Kenmore for my graduation. (She was a single mom by then and really could not afford it).
If you are not making buttonholes? Set aside a day or two and practice.
They are really not so terrible and the results are worth it!
It's just like zippers.
We cannot let these things rule us! Onward, and upward!!!
I did mostly garment sewing for years, spent 26 years as a children's wear buyer (but never sewed a stitch for that company!). I made my own bridal gown,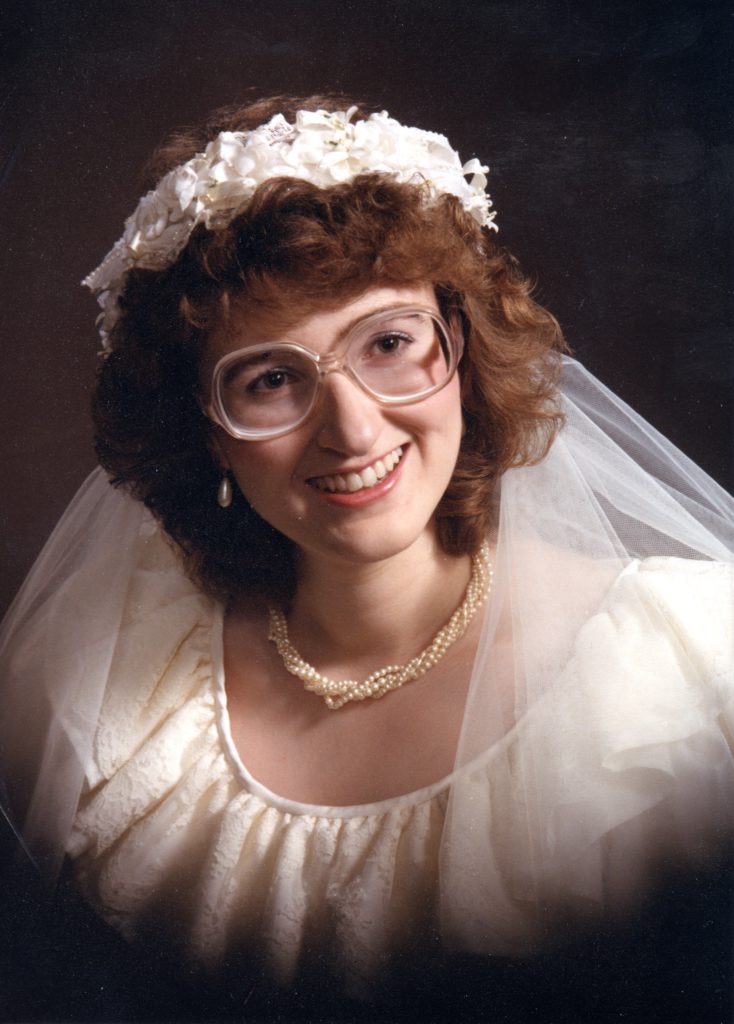 as well as several wedding projects for others.
This is my sister, she made her dress but I made the other outfits here.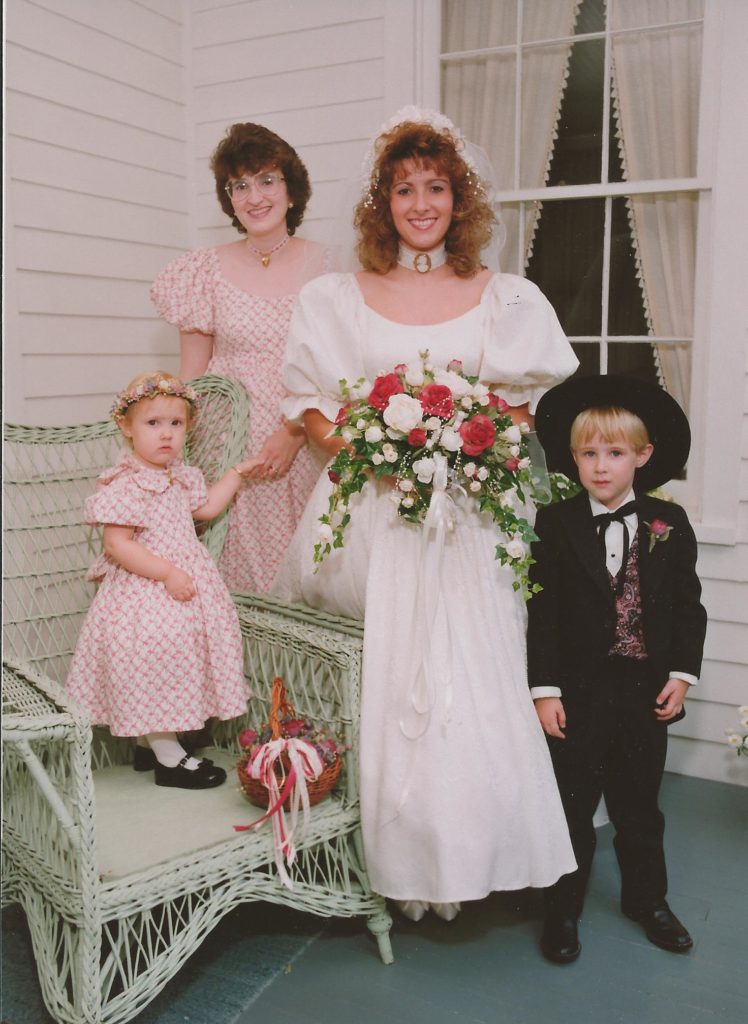 I've made too many curtains and valances to count.
This is one of my kitchen windows. I generally have my laptop set up here, so you can imagine me working on my blog entries or patterns here. My dogs happily run in and out the dog door under this window all day long.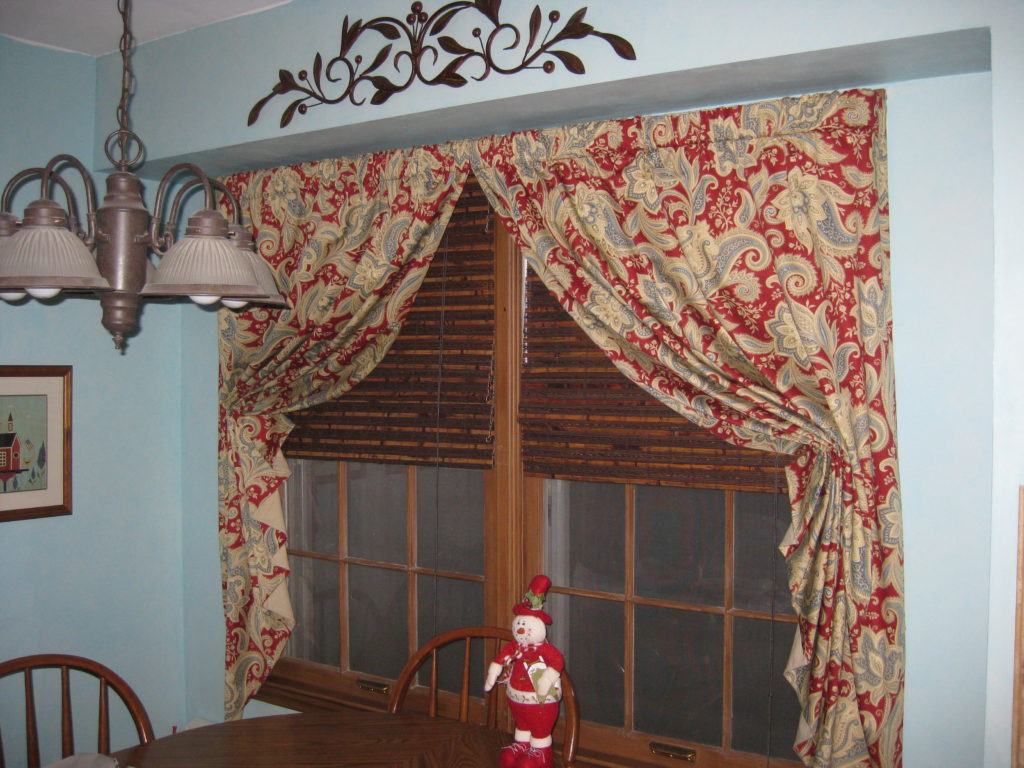 I've done costumes for productions, too.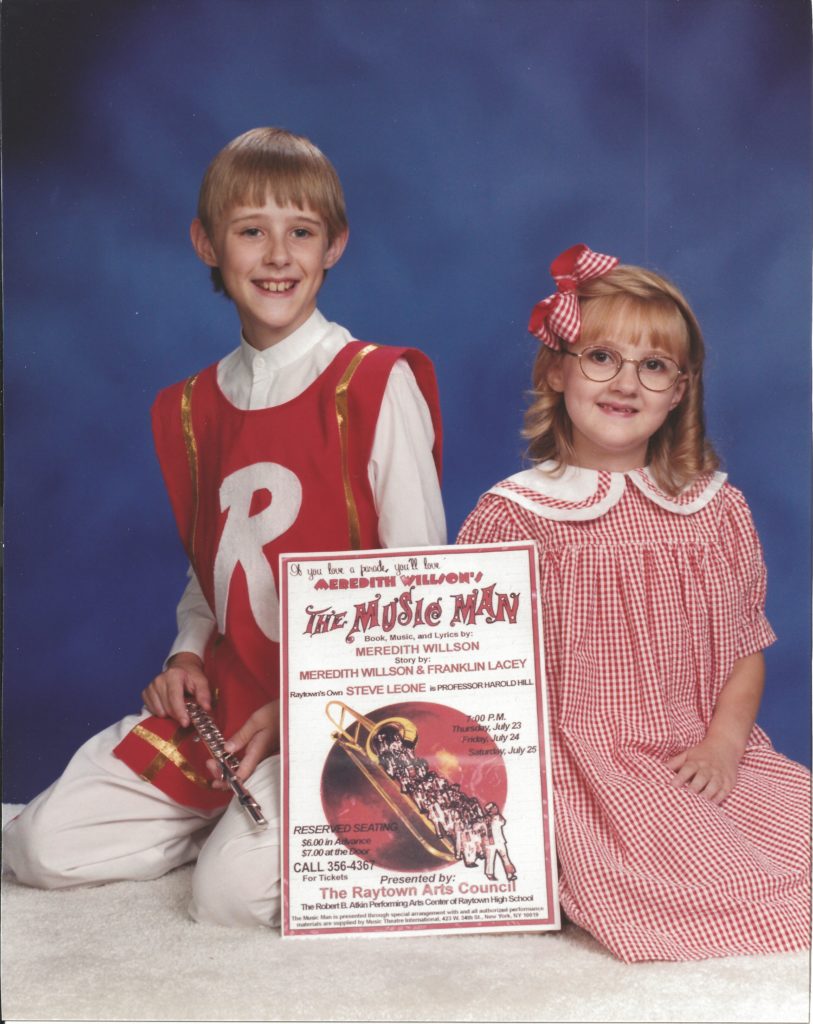 These are my two oldest kids, when they were 8 and 5.
Daniel had been bitten by the acting bug.
Sharon declared  that she wanted to audition for the Music Man.
Her reason?
'I might as well! I will have to go to all of the rehearsals anyway!'
Painfully true, but she had a great time!
When I switched to doll sewing about 7 years ago (because my niece got an AG doll) it was a thrill. These girls do not talk back! Their hipline never changes! 1/2 yard makes a ball gown! What is not to love?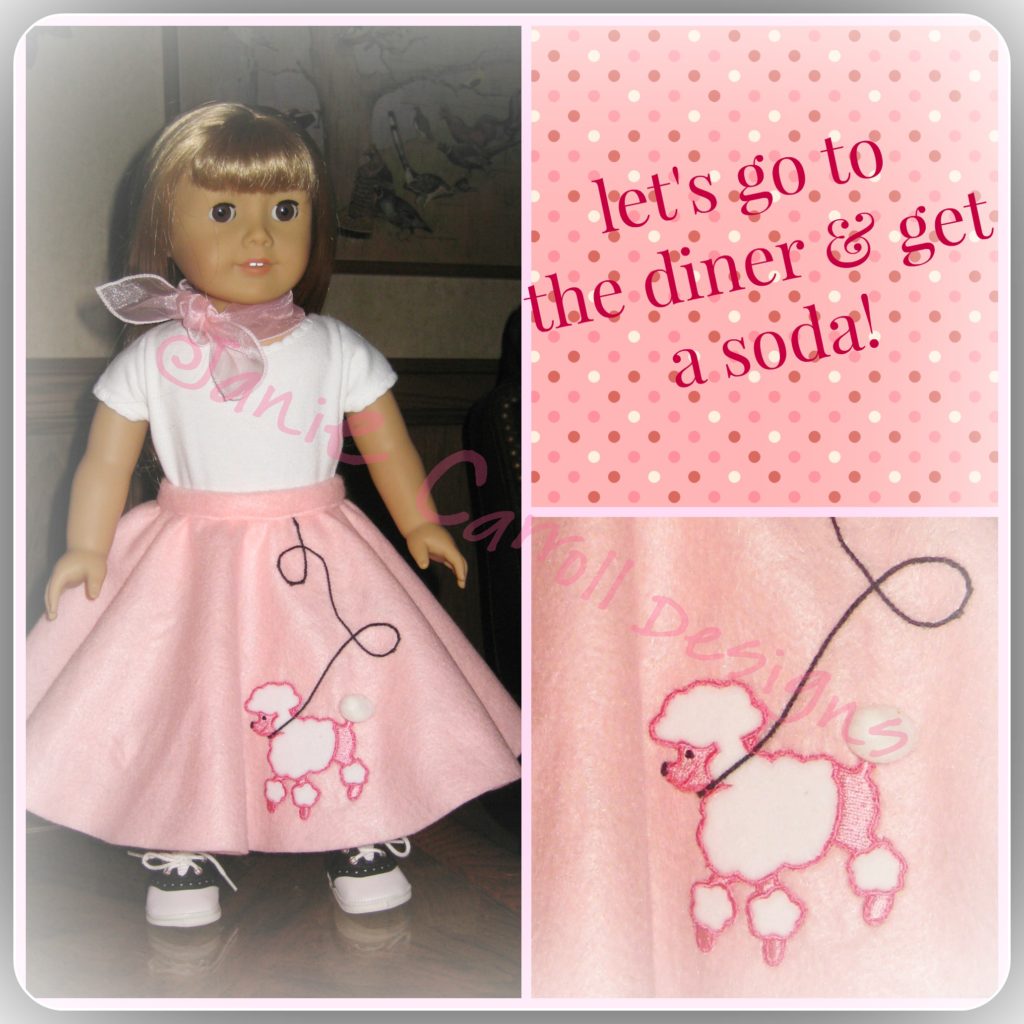 Poodle skirt sets like this were an early favorite that continue to sell!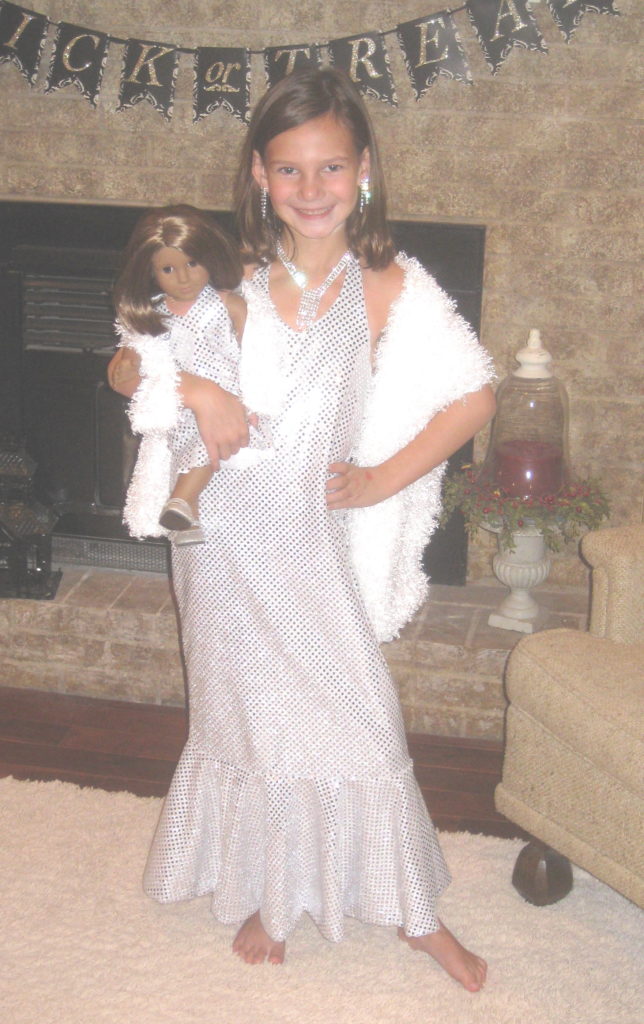 This Halloween request was one of the first patterns I drafted myself; for girl and doll!
Shifting to patterns has been the focus of the past 2 year
s and I am excited to go forward with that.
I see all of my skills in this area improving with each effort.
Here is a recent favorite. Thanks to my pattern test team I had amazing photographs for this cover!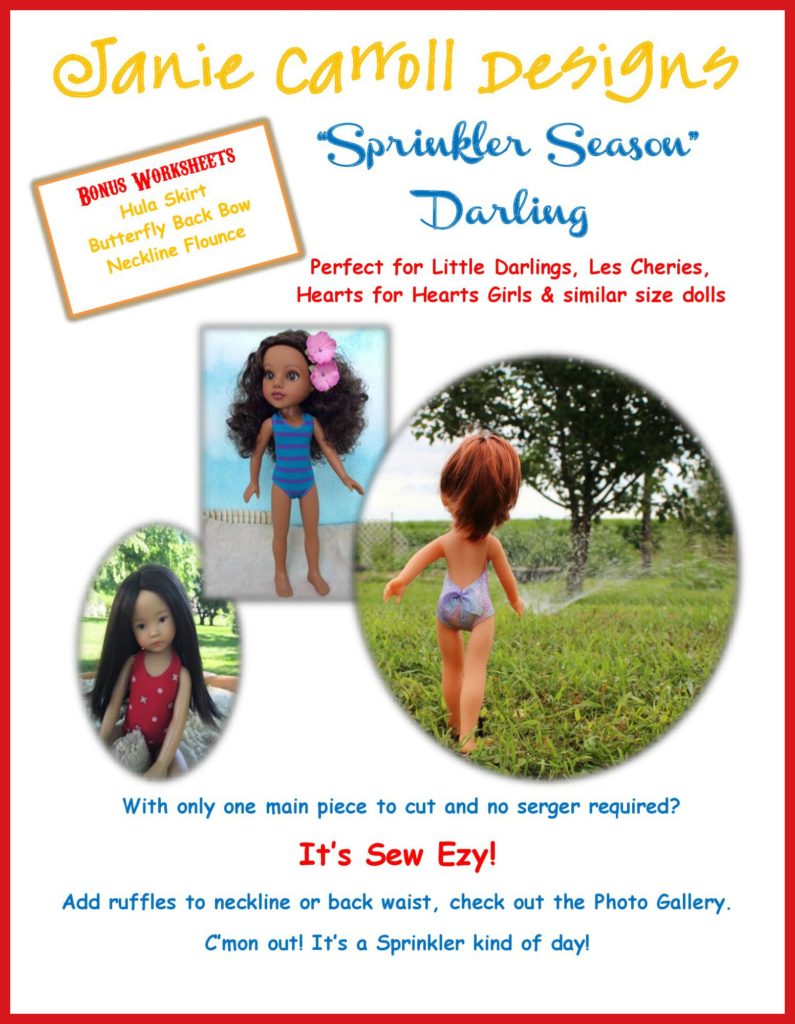 Who was it that said,
You're never too old to be what you might have been!