As promised last week
the Janie Carroll Designs newest pattern
Sprinkler Season
is out today!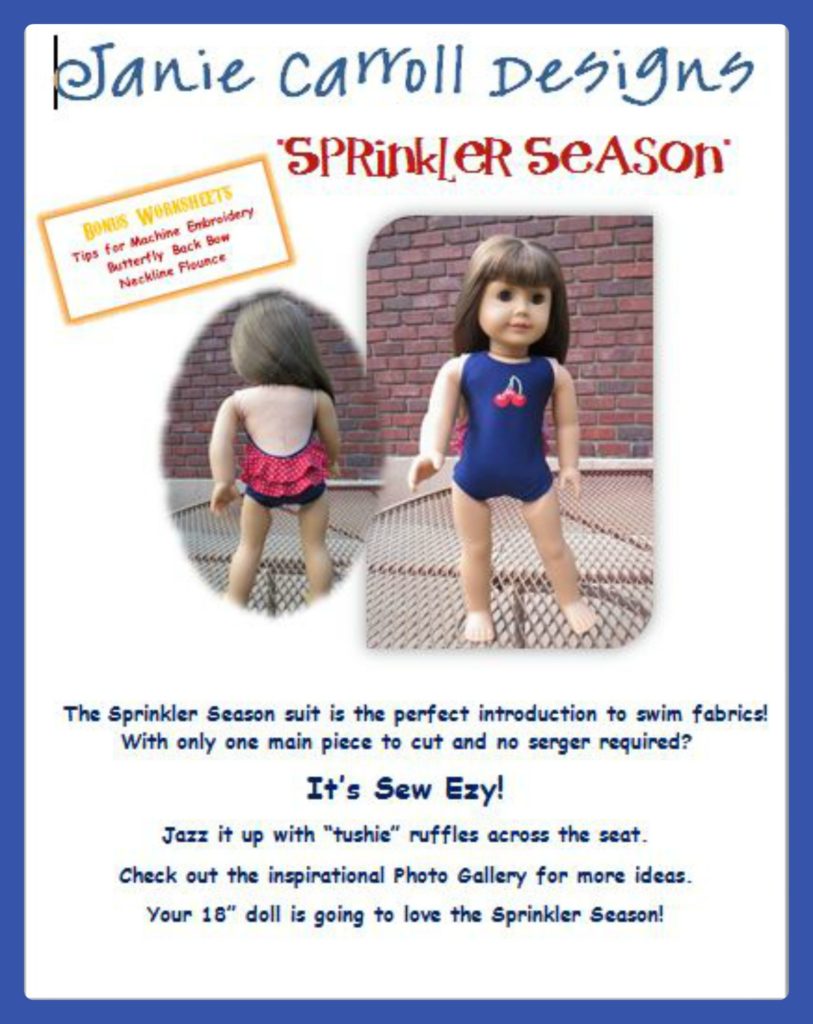 The Sprinkler Season is one of the first patterns I drafted.
It's a favorite I return to again and again.
Here's an early version:
I set out to streamline everything about sewing swimsuits for dolls.
The simplicity begins with a single pattern piece to cut
for the basic suit.
(Because I resent the time it takes to cut out a pattern!)
Next, I fiddled with the design of the leg openings until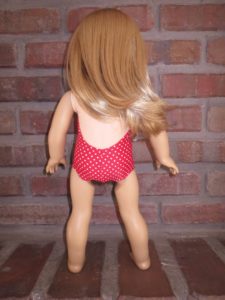 NO fussy elastic was necessary!
(How did that grab ya?)
Next I made the entire thing on my
regular sewing machine
with a good 'ole basic zigzag stitch.
(who needs the bulk of 4 serger threads in a doll swimsuit?)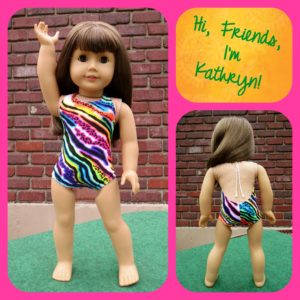 I tweaked the fit and re-cut the pattern
at least a dozen times
(because I get a little OCD about patterns!)
After I made (and sold) about a gazillion of these suits
(give or take a few)
I decided it needed some trim options
I tried a few things like this neckline ruffles strip: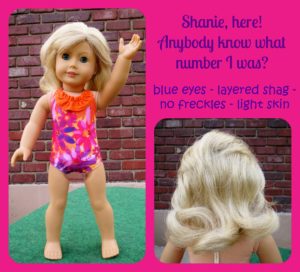 It's cute, but it didn't get me all excited.
Then I hit on the idea of circular ruffles!
I tried them first at the neckline…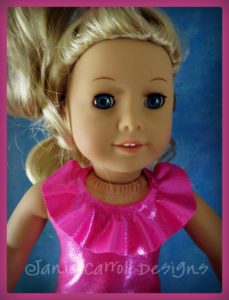 And that's still something you can do…the pattern gives you info on that.
But, WOW!
when I put these darling ruffles in tandem across the dolls backside?
I loved how cute they were!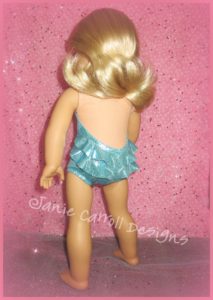 Tushie Ruffles!!
Suddenly my old reliable suit was full of pizazz!
(and still easy – there's no edge finishing on those ruffles!)
I started posting pics and people were excited.
(that's always gratifying!)
BUT
I heard a lot of comments from people that were
just a little afraid to sew swim fabrics.
(Some of them sounded petrified!)
Some sewists reported so many problems attempting to sew knits
that they abandoned the idea altogether.
Thinking about how great my little suit design was
I had to figure out a way to
GET THESE FRIENDS SEWING SWIMWEAR!
I spent a week writing, re-writing and editing
a 10 page guide to swim.
The Swim n Sew Info Guide
(I edited that baby until I was sick to death of it! lol)
It's full of every bit of information and extra tidbit
about sewing with swim fabrics
that I could think of
(and a few that friends suggested i add!)
SO…
If you're looking for a quick to sew swimsuit
this is it!
I can knock out 2 and 1/2 of these in an hour
(and that includes the hateful cutting out!)
I could go on and on.
Get it here:
You'll like it.
(yes. I'm sure!)