Don't we all get super busy at the holidays?
I hope you've been busy sewing!
I know I have; so many custom cheer uniform orders this year!
I scarcely have time to make any goodies but I was intrigued by
a recipe idea I saw on Pinterest.
Here is the first pin link I found:
http://www.just2sisters.com/2-ingredient-peanut-butter-fudge/
Only 2 ingredients to make fudge?
Canned Frosting
and flavor chips of your choice.
It just didn't seem possible!
After all,
my darling husband once managed to
fail at 'no fail' fudge!
And the 'real' kind can be so persnickety!
The slightest little issue
and it turns out grainy!
Could this tantalizing promise of easy fudge be true?
I went looking for other info and found this blog post:
http://someofthisandthat.com/2-ingredient-fudge-tons-combinations/
It sounded too good to be true.
and just intriguing enough that I had to try it.
After debating the possibilities
I decided to try a combination of chocolate frosting and butterscotch chips.
I scooped the frosting into a bowl and zapped it for a minute and a half on power level 8.
Gave it a good stir and dumped in a full 12 oz. bag of butterscotch baking bits.
(Both my frosting and chips came from Aldi's, in case you're wondering)
Stirred vigorously for a minute or so, just to make sure those chips were melted thoroughly
and mixed in well.
Next, I tour off a piece of parchment paper
(which makes so many cooking and baking chores easier)
and lined an 8″ x 8″ glass baking dish with the paper.
Poured in the chocolate-ly goop,
which spread out beautifully all by it's own-some.
It looked glossy and gorgeous
but slightly plain.
I fished around in the fridge
for a big ziploc bag I have of
chopped pecans
and sprinkled a large handful of the pecans
over the top of the fudge.
I tore off another little piece of the parchment and used that
to gently push the pecans into the surface of the fudge.
At this point I couldn't remember if the fudge was supposed to go
into the fridge
so I went to check my laptop.
The phone rang and I got distracted
visiting with my Sister in Law.
When I hung up, after about half an hour,
I'm happy to report that the fudge was
mostly 'set', having been left on the counter.
I did stick it in the fridge to
firm it up a bit more.
After another half hour or so
I was able to lift the parchment right out of the pan
and cut the fudge into neat, tidy squares.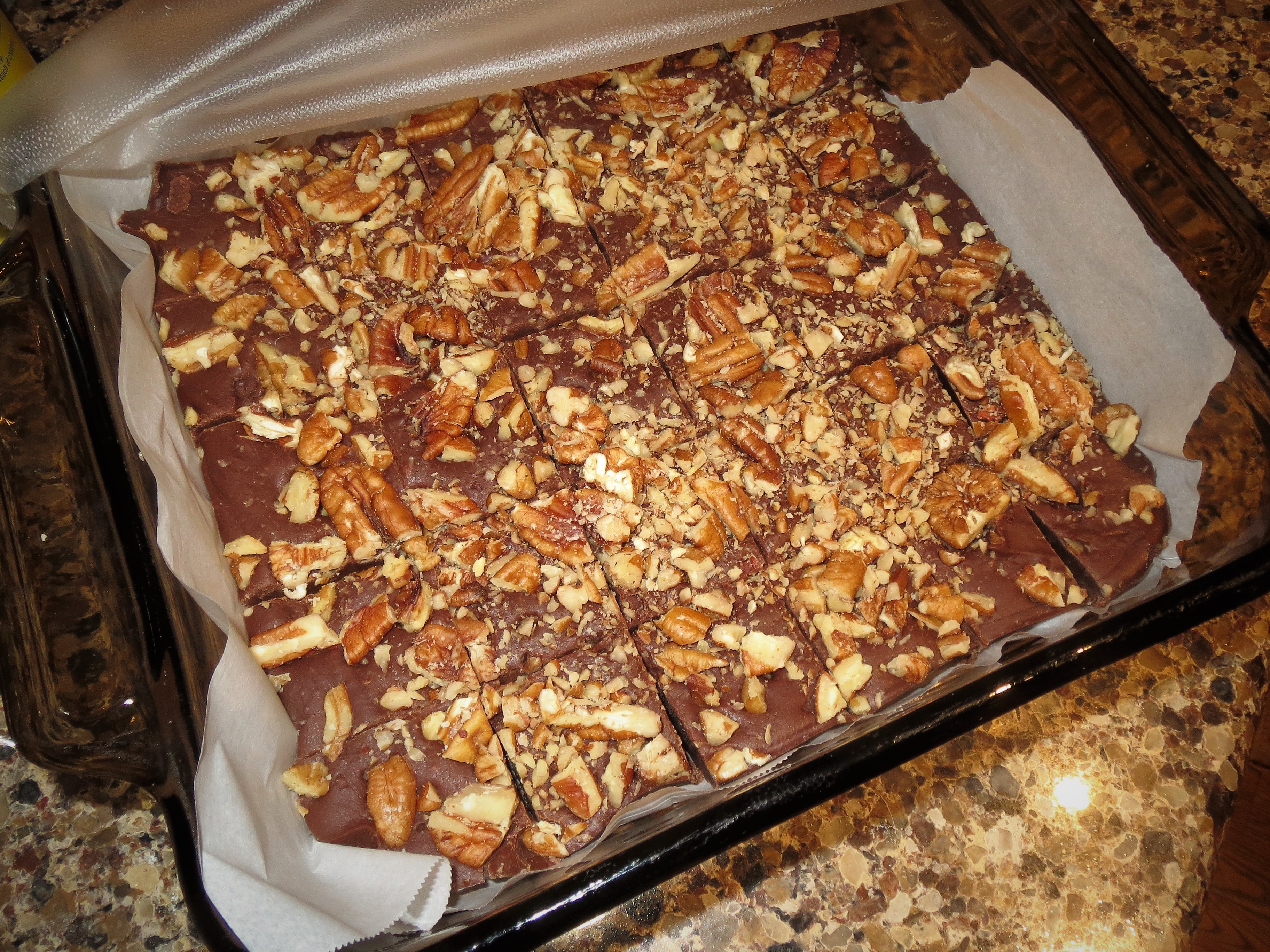 Isn't it gorgeous?
I sampled some of the bumpy edges I trimmed off
and it's delightfully fudgy and good!
Truly.
I was amazed.
It has that rich, buttery texture and deep, rich taste
that one expects from fudge.
Be sure and click through to the links
I've attached.
So many flavor combos are possible.
You can sub in 2 cups of peanut butter for the 12 oz. bag of flavor chips
if you wish.
As easy as this is?
We'll be able to keep sewing,
and wow the holiday company
at the same time!