I love the way an idea progresses
from the first thought
to a final completion.
Recently an online friend was asking for advice on how to make ruffles
like those in this Weissman brand dance costume (their photo):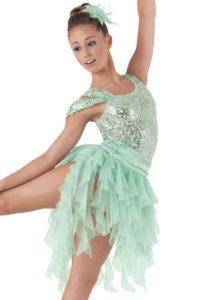 I started searching for methods or patterns
and I got all excited about sheer ruffles of all varieties!
Turns out, Rachel Chambers Rudd didn't need help from me – here's her photo of the gorgeous
doll-sized version she created for a client!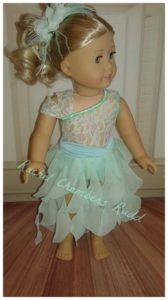 In any case, I was now in the mood to ruffle something! in fact,
Let's just ruffle all the things!
So many great ideas abound, and the use of stretch mesh
which is often used in dance or skate-wear
makes finishing edges completely unnecessary!
Stretch mesh is a favorite of mine, for dance and skate wear, as well as trims like ruffles.
It can be difficult to find.
I sometimes find it on the special occasion aisle of fabric stores.
I also order it online from sources like http://spandexworld.com/ or http://www.spandexhouse.com/index.php?nId=1
Next up: A pattern to play with for my first idea.
I started with the Janie Carroll Designs Great Lengths Ezy T pattern
which looks like this: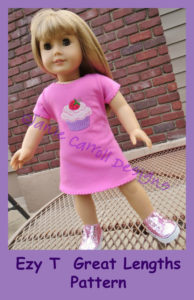 and can be found at http://www.etsy.com/shop/JanieCarrollDesigns
I chose the extended 3/4 sleeve for my project, and a lightweight gray knit with a silver-lurex stripe,
along with a  teal mesh with a metallic coin-dot pattern. (Gray knit and Teal coindot mesh were
purchased from JoAnn Fabrics, but may no longer be available)
Here's a photo of the first garment and jabot I drafted.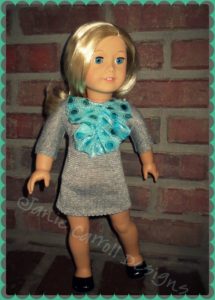 I got some good feedback on it, and it's ok, but I wasn't really happy.
I felt that the scale was off, it looked a little like
a clown's collar!
The metallic coin dots were  too shiny and they conflicted with the silvery stripe
in the gray knit. Making the overall effect just – too much.
I grabbed the seam-ripper and removed the teal jabot.
This time I started with a 4 or 4.5″ circle, but feel free to experiment with different shapes
or different dimensions.
I clipped off a concave shape and my pattern was ready.
Here's what the pattern looked like.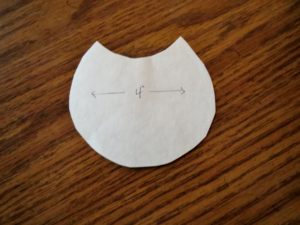 Cut from ballet pink stretch mesh, I trimmed around the outer edge with
pinking shears
Next, I ran a quick row of hand-gathering stitches across that short concave end
of the mesh and gathered it down to about 1.25″
At that point I hand-stitched the mesh to the neckline of the dress.
The curve of the concave fits just below the neckline nicely.
Last up was the selection of the pearly button and stitching that in place.
The end result is SEW pretty.
The coloration and the scale work much better than the teal coin-dot.
Lots of lessons with this one…
Allow your inspiration to lead you along,
rather than dictate an exact copy.
A neckline jabot is hardly a ruffled skirt,
but the seed of the idea was planted by Rachel!
A basic garment with few seams or inherent details is
a perfect canvas for artistic experiments!
Don't set your first idea in concrete.
Be flexible.
Make changes if things don't work out.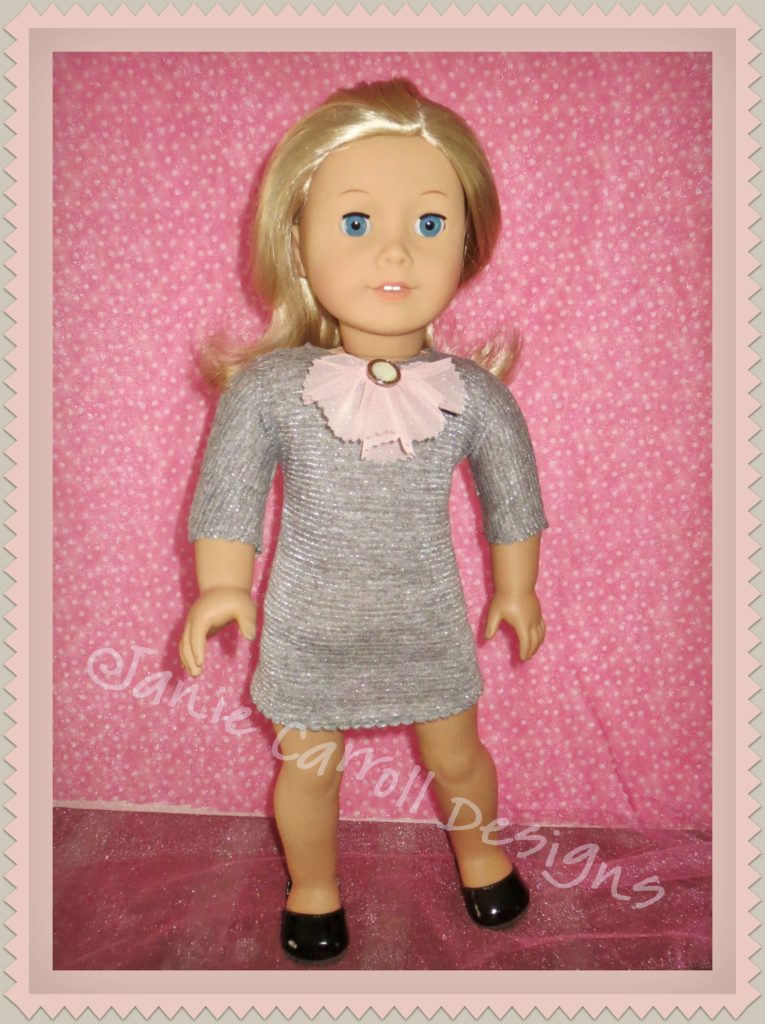 The end result is quite elegant.
Who would expect this from a simple t-shirt dress and a frill of pink?