Separates for dolls can present a new set of problems. While young girls have little hesitation in putting outfits together, their mother's and grandmothers seem to struggle when purchasing separates. Many dolls do not own a complete closet of optional separate pieces, either. If you're sewing for a special customer in your life you may know more about what she has or does not have for her dolls. Because I sew primarily to sell, I like to showcase complete outfits. I find these sell better for me, particularly at craft show venues.
If your chosen pattern offers outfit options, you may wish to use the ideas presented there.
You can always combine patterns and ideas on your own.
When we're sewing, we can make it our way!
I like to start with the pattern/fabric/design element  I most want to use. It might be a favorite fabric, or a pattern that has caught your eye.  In this case, I loved this little machine embroidery design from Blastostich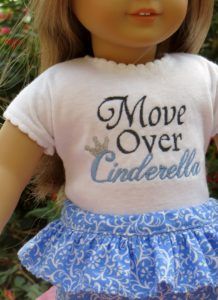 which you can purchase here:
http://www.blastostitch.com/?product=move-over-cinderella-machine-embroidery-design-pattern
I loved the combination of ideas here: the traditional Cinderella updated with some sassy attitude! I thought it needed something feminine, and flirty, but definitely contemporary.
As a side note, it can be difficult to find machine embroidery designs which are scaled down enough for doll clothing. Blastostitch is an excellent source as almost all of their designs come in several sizes, generally starting at 2.5″. I find I prefer a generous size, and often select the 3.5″ design, as shown above. I've had great luck with the stitch quality of designs from this company and they run nice sales regularly, too.
My favorite canvas for embroidered designs is my own Janie Carroll Designs Great Lengths Ezy T pattern. This is the standard short sleeve version. You can find it in my etsy shop here:
https://www.etsy.com/listing/226601954/ezy-t-great-lengths-t-shirt-or-t-dress?ref=shop_home_listings
now for something on the bottom…
I dug through my pattern stash and decided on this FREE skirt pattern, from Sew Adollable. This is a great little pattern that is quick and easy to sew and would be an excellent choice for beginning sewists. If you don't already have this pattern, you can find it here:
http://www.18inchdollclothesz.com/blog/how-to-make-peplum-skirt-for-american-girl-dolls.html
I added the picot stitch along the finished edges of the peplum ruffle, just to jazz it up a bit. This also co-ordinates it with the Ezy t, as I used the picot stitch on the t-shirt, too. (remember, you can find the picot stitch worksheet included in your Ezy T pattern)
I picked a French blue floral calico print and chose blue embroidery thread to match for the t-shirt embroidery. Adding white flats completed the outfit.
Alternately, this t-shirt could be paired with jeans and sandals; white shorts and silver glitter tennis shoes or even a blue knit maxi skirt and bare feet! You could certainly use your 'Flirting with Skirts' pattern supplement to attach a gathered skirt to your t-shirt, too.
Cinderella will definitely have to 'move over'. Your doll is gonna look amazing!