Here we are at the beginning of another
NEW YEAR
Hard to believe it's 2018.
I am not one to make a lot of specific resolutions,
but I do like to have some loose plans
directions I think I'm heading,
things I'd like to move away from.
I celebrated with the family
I am blessed to have.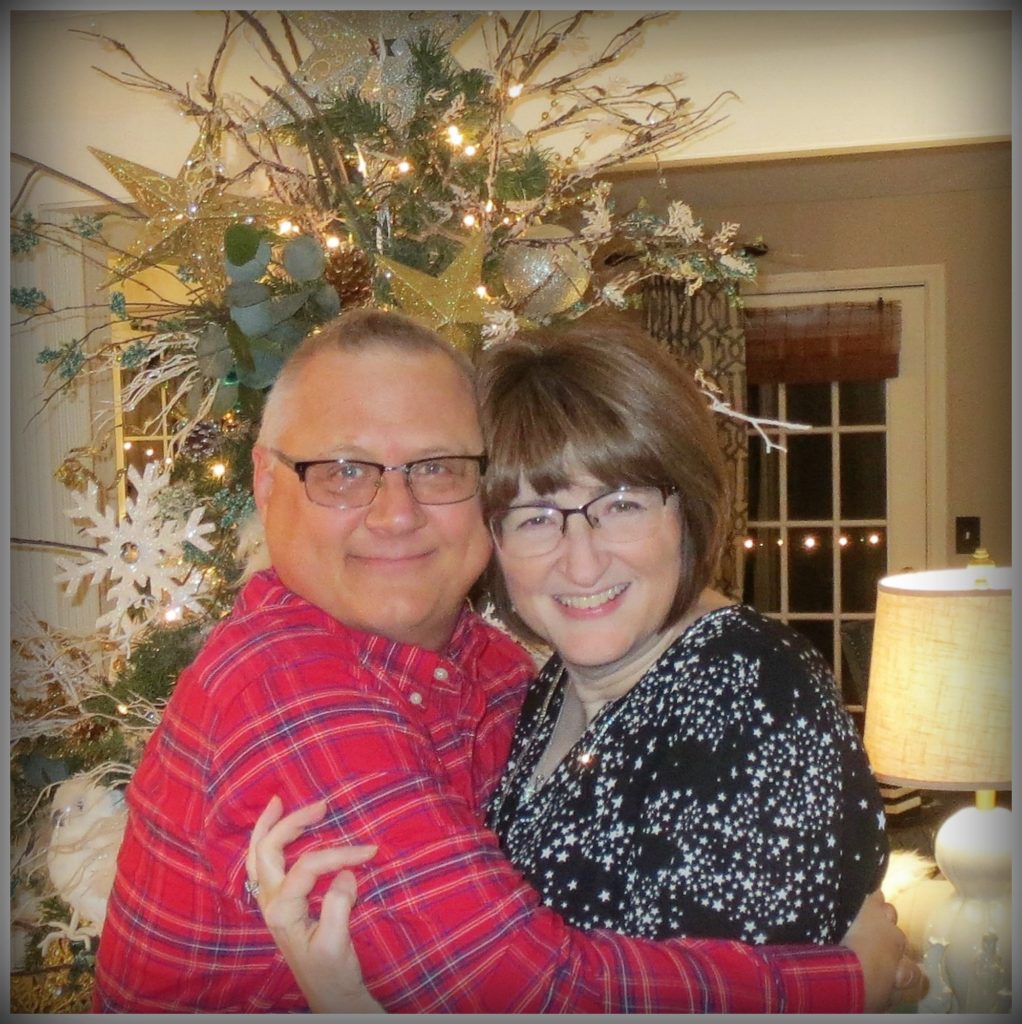 My Honey Bunny, Tom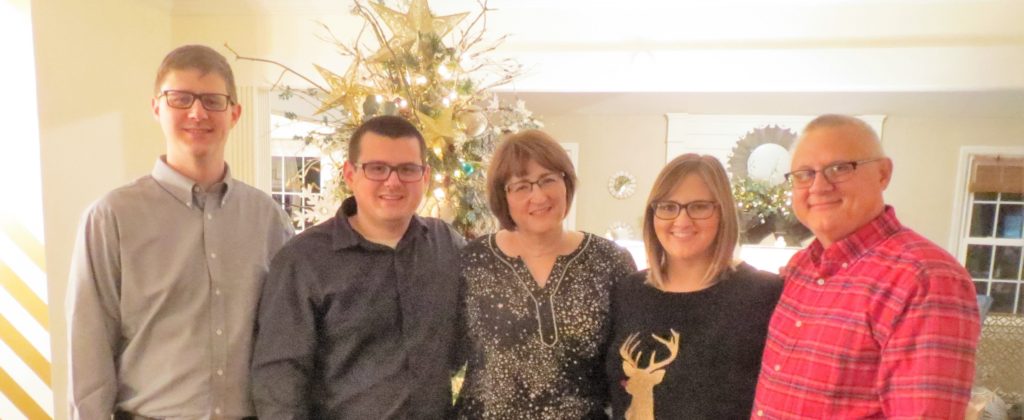 our kids, and extended family, too.
The season included some crafting gifts from me…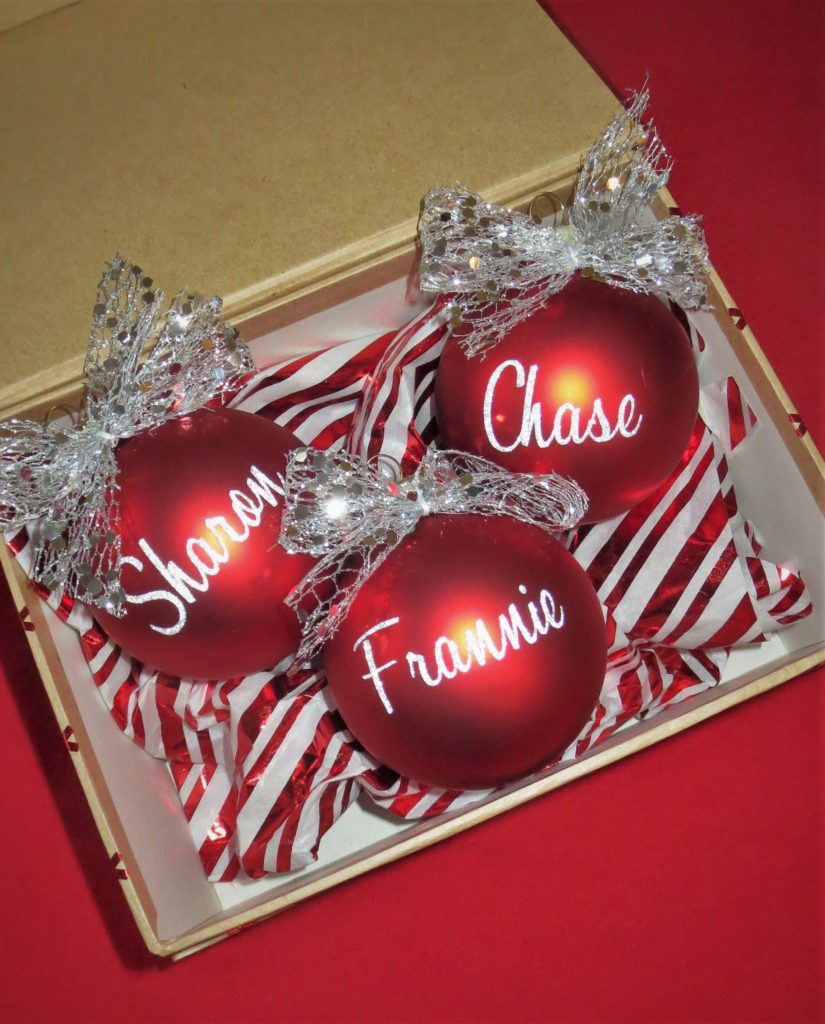 as well as the usual, frantic last-minute scramble for more presents!
Today I'm working on my next custom order.
I'm also thinking about all the ideas swirling in my head
of what to make next.
I'm likely doing this to avoid thinking about the upcoming tax season!
but you've got to have a little fun
among life's miseries, don't you?
Lately, I've noticed lots of posts about lack of motivation
struggling to come up with ideas for projects
and just generally
being unsure about where to begin.
I am occasionally there, too.
Most of the time I don't have much trouble
coming up with ideas.
Let's talk about some places to begin when
you don't have a good idea of where to go next.
First, and foremost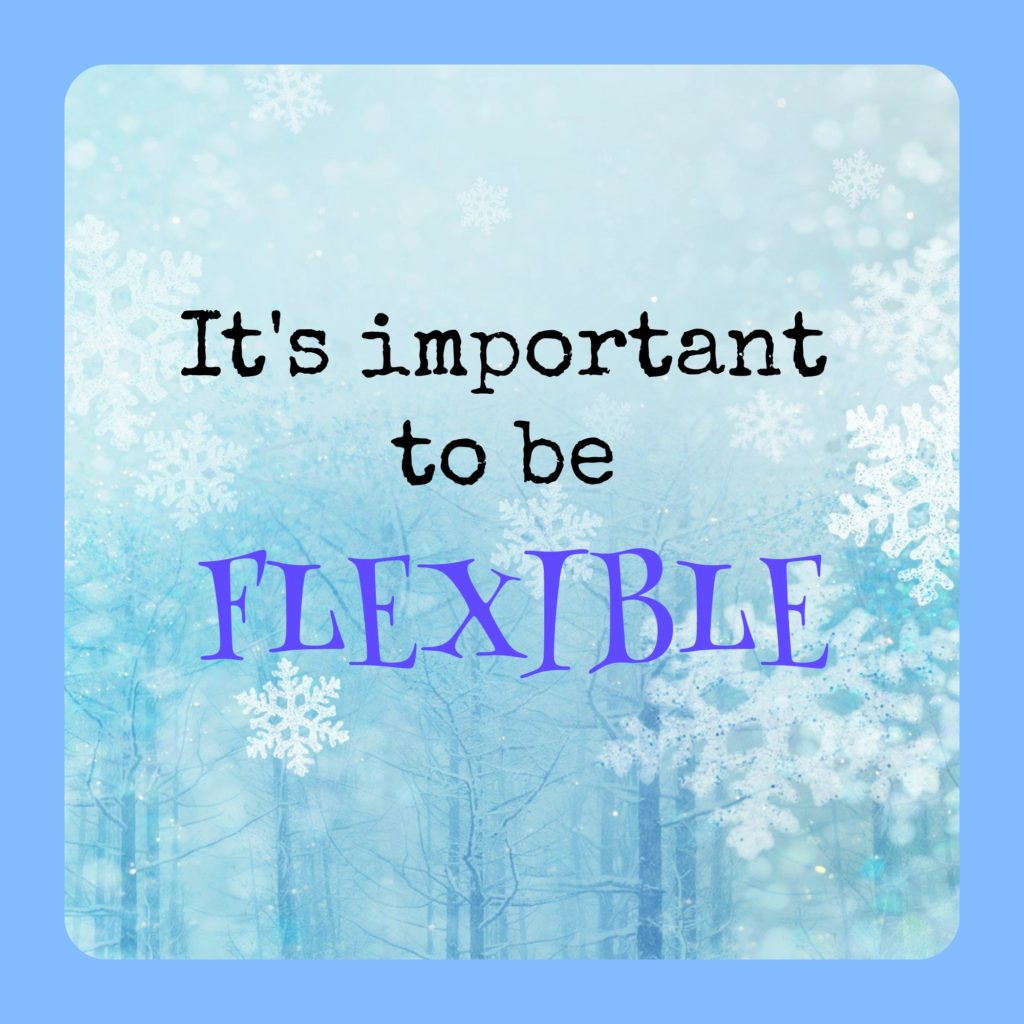 I really believe that the number one cure
for this problem
is flexibility of thought.
If you always start from the same beginning point
you are likely to end up at the same destination
over and over again.
Not necessarily bad,
but it tends to make
all projects take on a very similar flavor.
How to reverse this?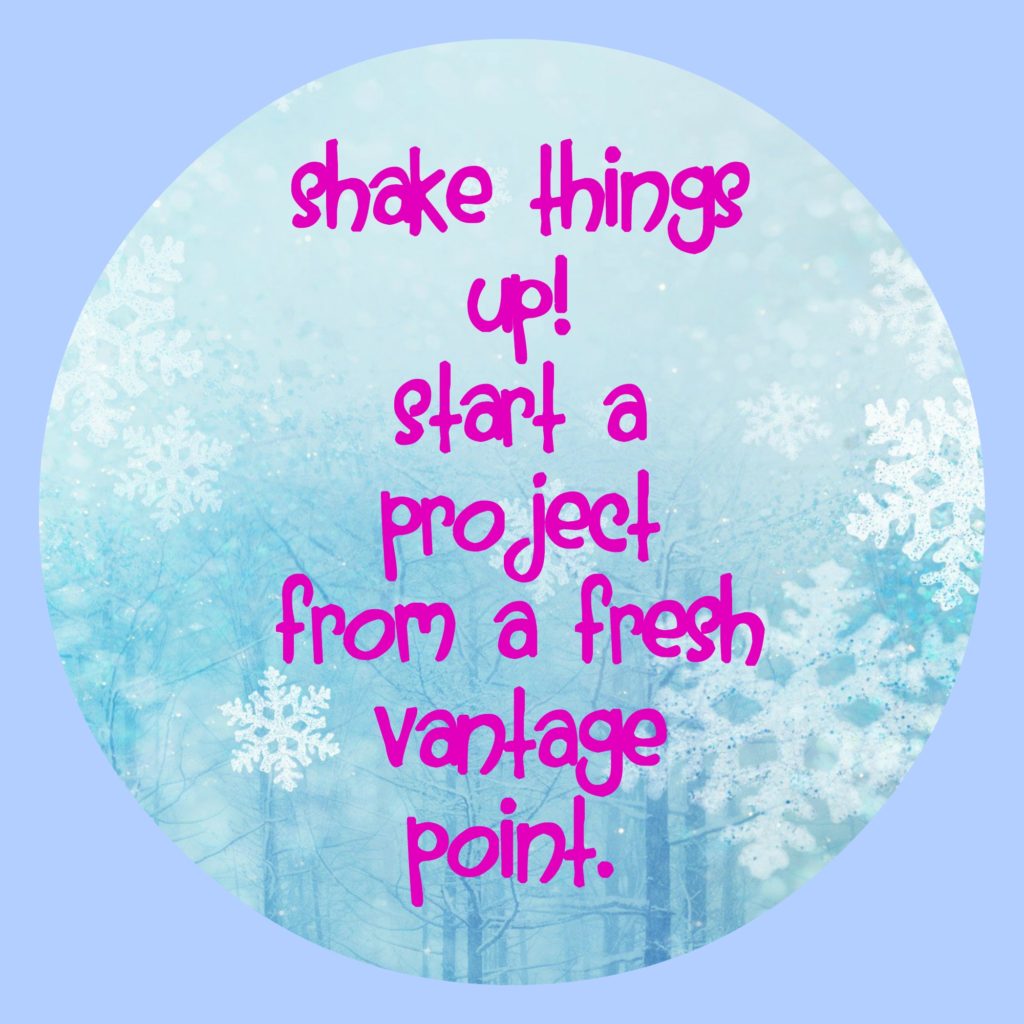 To branch out just a little?
If you make mostly basic, waisted dresses
try a swimsuit, or an evening gown.
If you reach first for solid colors?
How about a splashy print?
Ask yourself if you might try an entirely different color scheme.
perhaps one you seldom sew with at all.
(ever notice how we tend to sew with our own favorite colors?)
How about grabbing two patterns from your selections
and asking yourself if you might choose detailing from one
to apply to the other?
Or finding pictures of finished clothing
that will work with existing patterns or ideas.
I saw this outfit…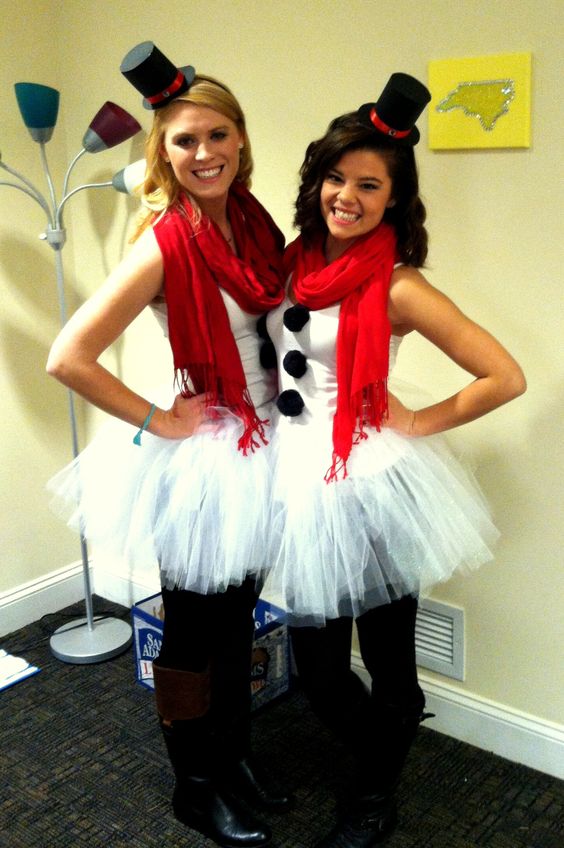 (from Pinterest, source unknown, not my picture)
and made this outfit…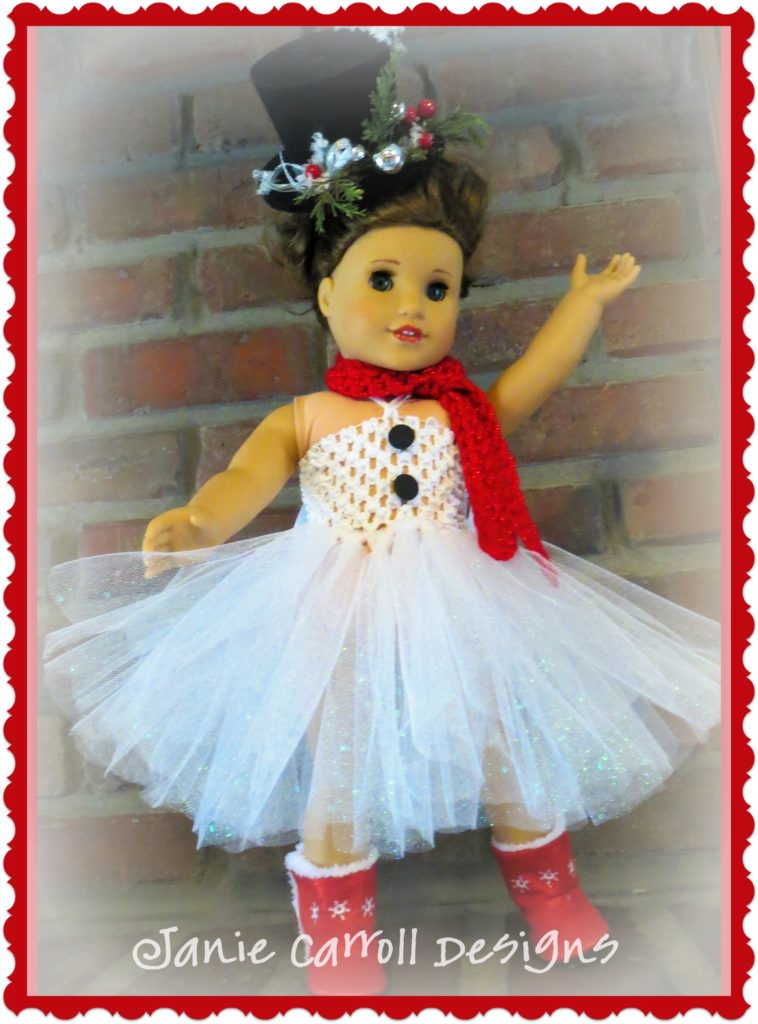 In this case, many of the elements
are copied fairly closely.
This is not always the case.
How about working from a more abstract point of view.
Scrolling along on Pinterest
I loved the French sensibility of this little school girl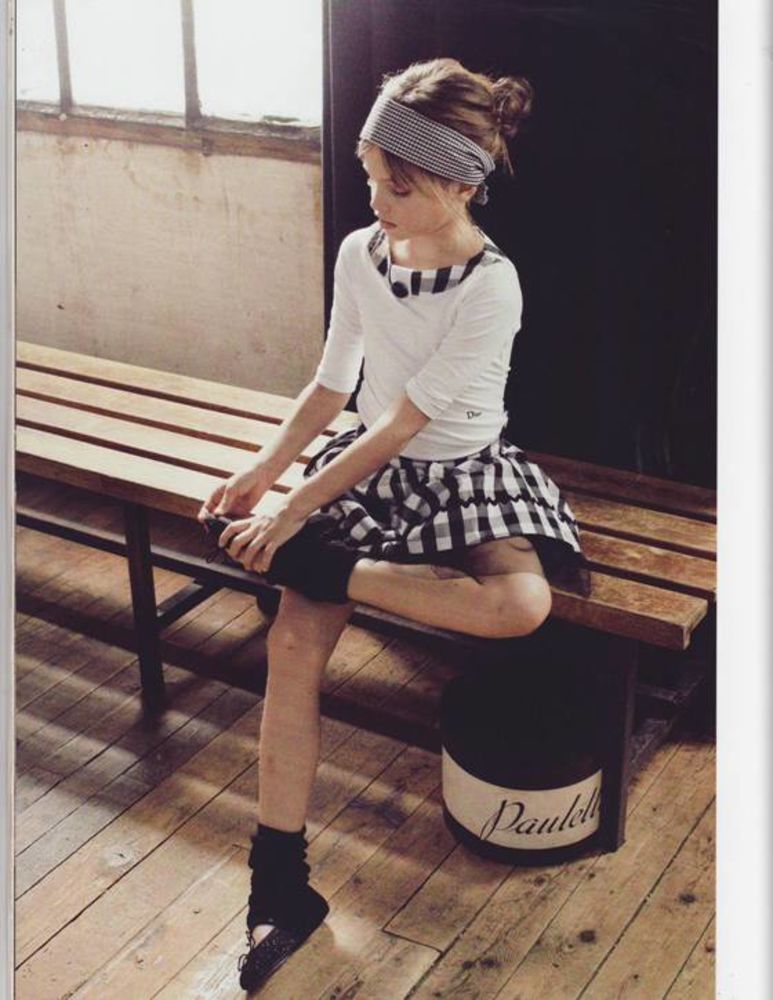 It produced this doll outfit.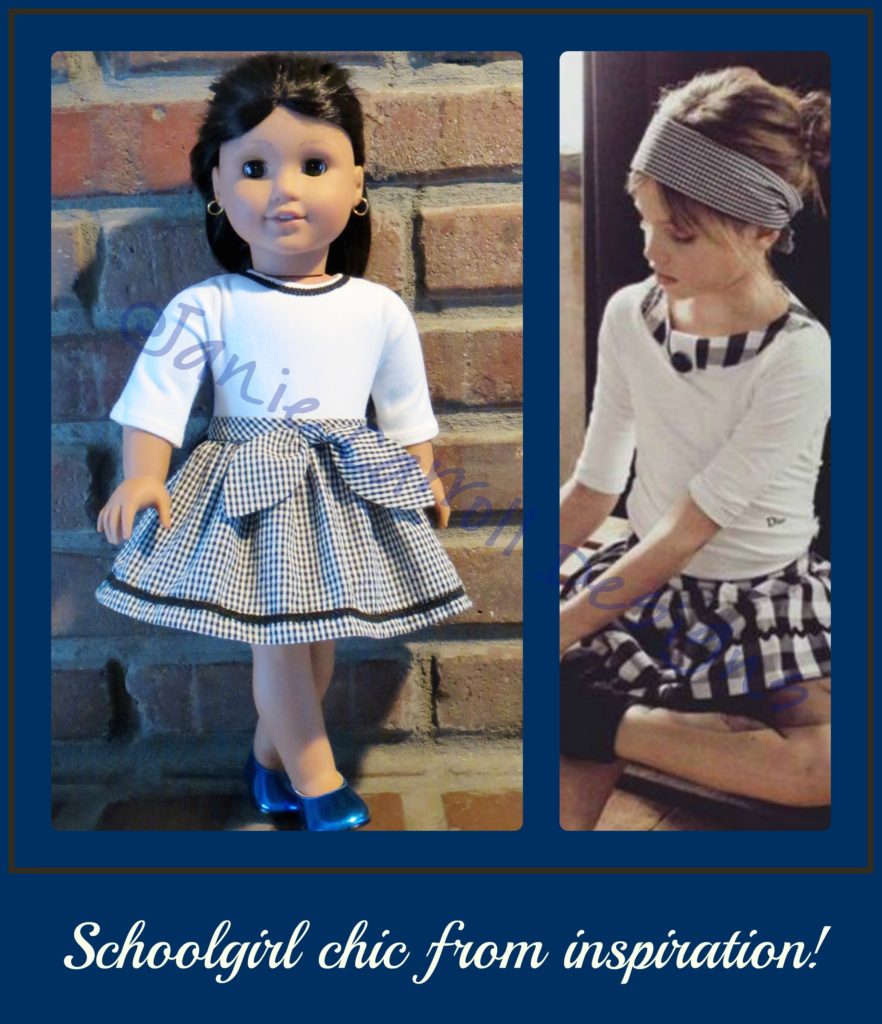 Not identical, but the thought is there.
Don't forget to give it your own spin.
I decided to move the effect of the hair wrap down to the waistline in a pretty knot-front belt.
I also thought the royal blue metallic flats were a stylish choice.
This one outfit started me thinking about
the French influence in design.
A casual, effortless elegance in simple lines,
whether for dressy looks or sportswear.
These outfits all came from that 'thought space'.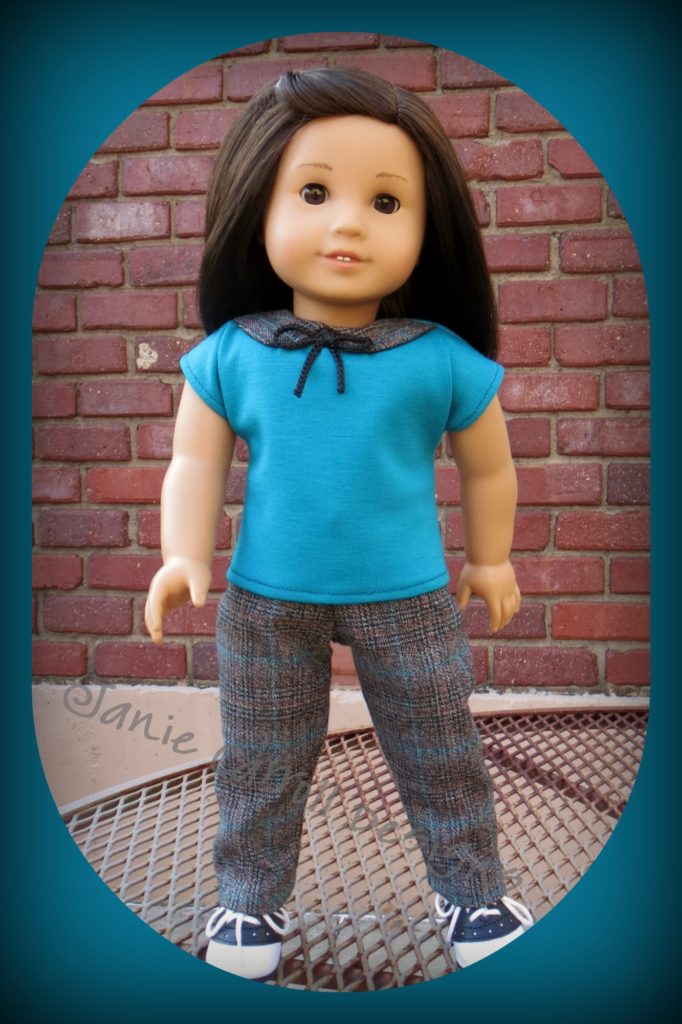 (top from the Ezy T pattern, front collar from the Enhancements pack, pants pattern not available)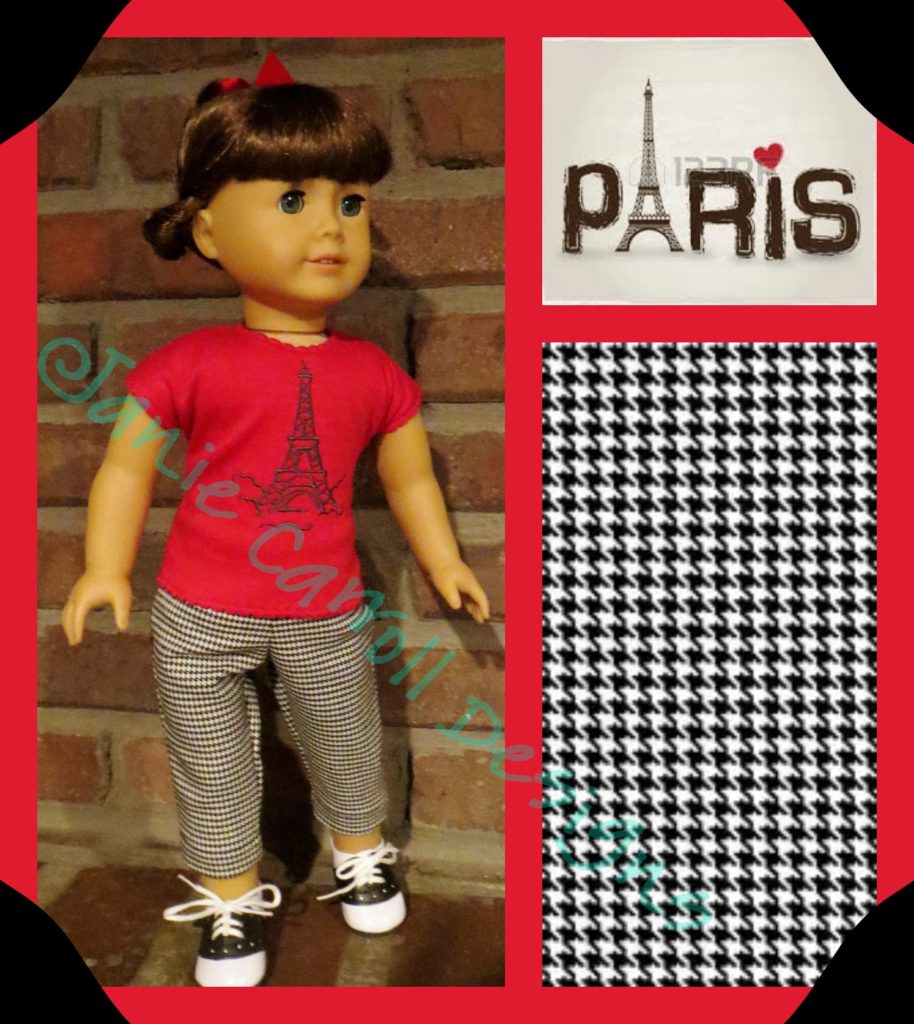 (top is an Ezy T, embroidered design from embroidery library, pants pattern not available)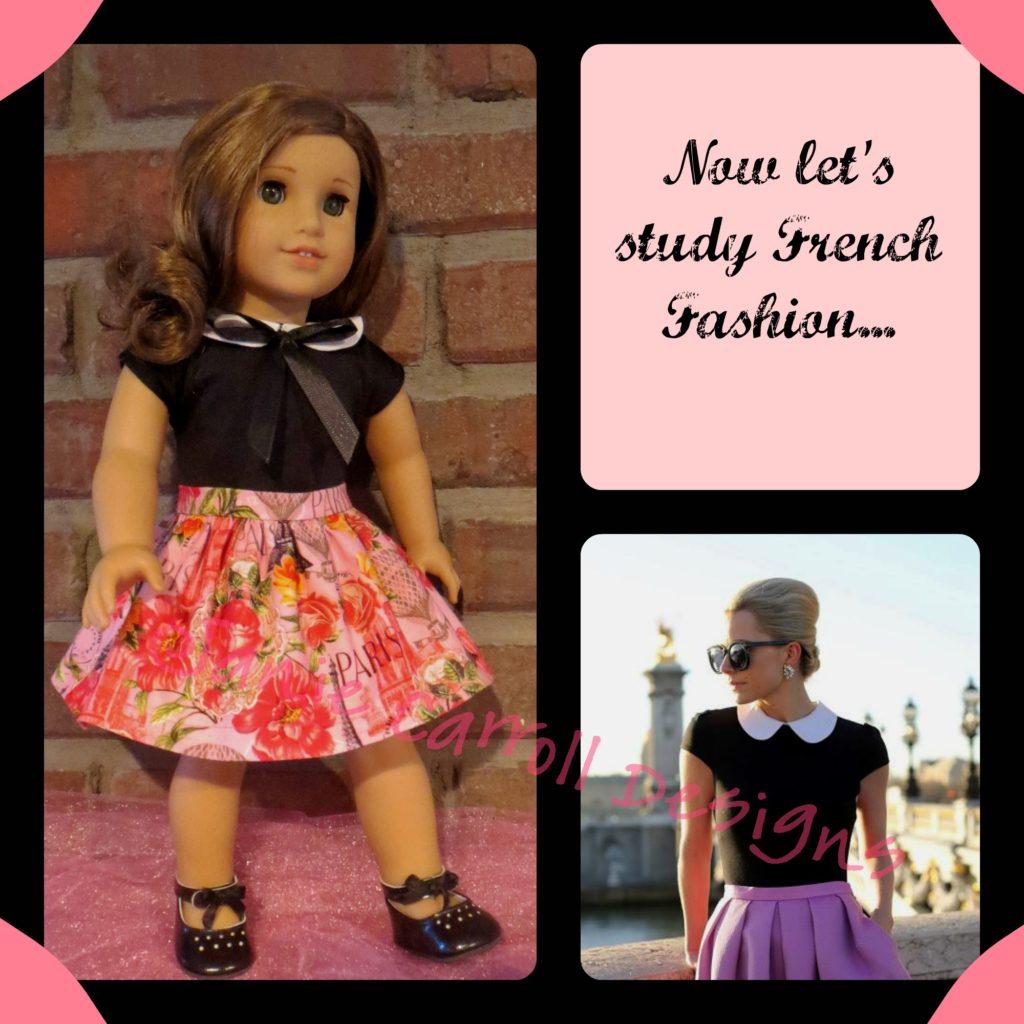 (top is an Ezy T with collar front from the enhancements pack, skirt pattern not available)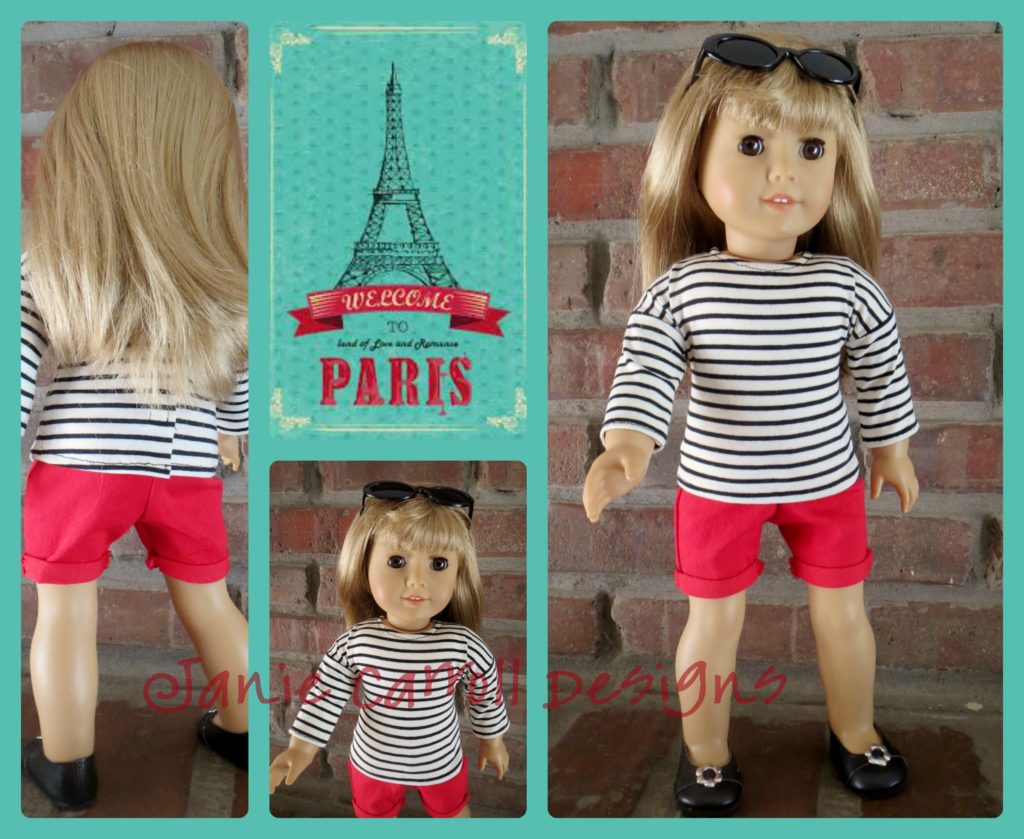 (top is an Ezy T with sleeve additions, shorts are from Erin Hentzel's book, 'Sew in Style')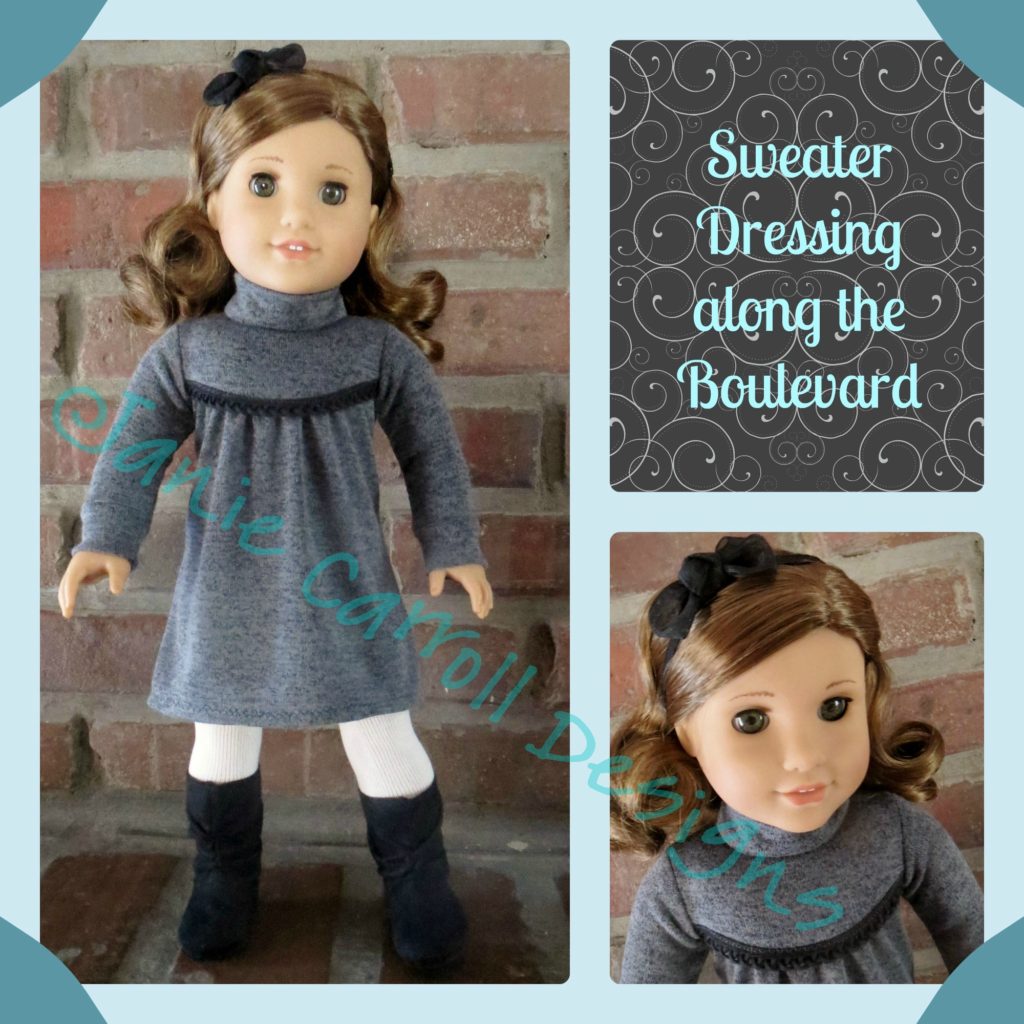 Sweater dress from All Dolled Up, pattern 'Gigi'. Originally released as a top pattern only, I lengthened this to a dress. Terrie has since added the dress length for you!
We'll visit this topic again and again,
as I feel that creativity and inspiration
are critical to good design.
I use these same thoughts when designing new patterns.
Only a few months ago I was planning a simple circle skirt pattern.
Something like this one, shown here with a 'Recital' pattern leotard.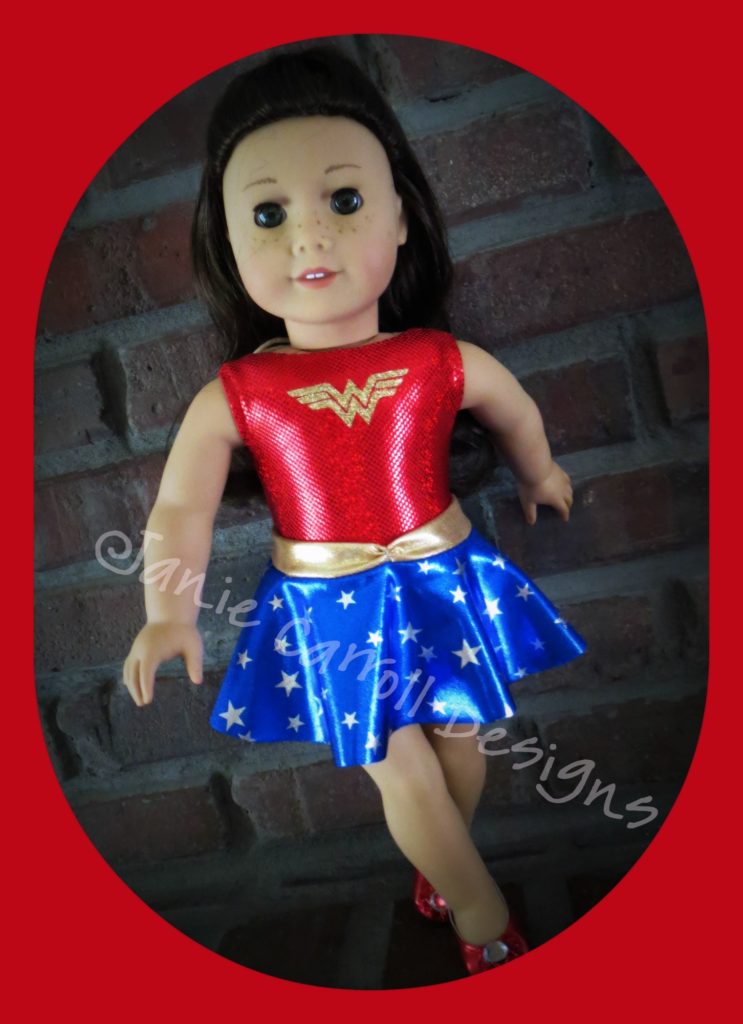 I don't generally release patterns for separates, preferring
to provide buyers with a full outfit option.
Casting about for a top choice I hit on the idea of a crop top.
Certainly appropriate but not entirely interesting.
Next, I found this sketch.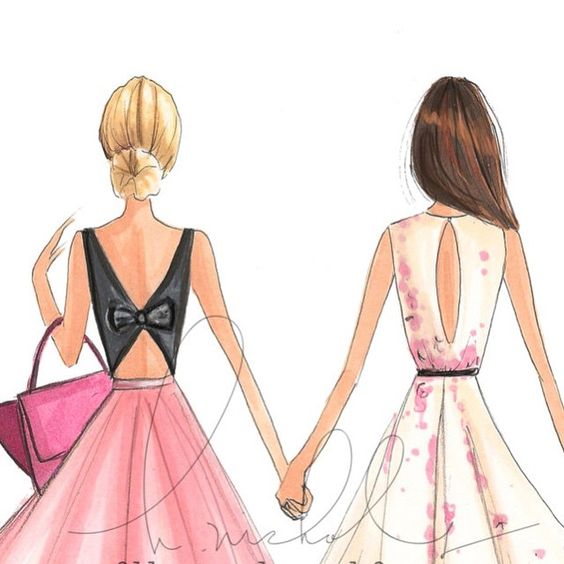 Here was a fun back detail!
wanting to add pattern options and realizing
that I had not been able to find a handkerchief hem skirt pattern
when I wanted one?
I decided to add both of these to the pattern.
What do you know? For our dolls – that triangle back crop top was easily reversible, front to back!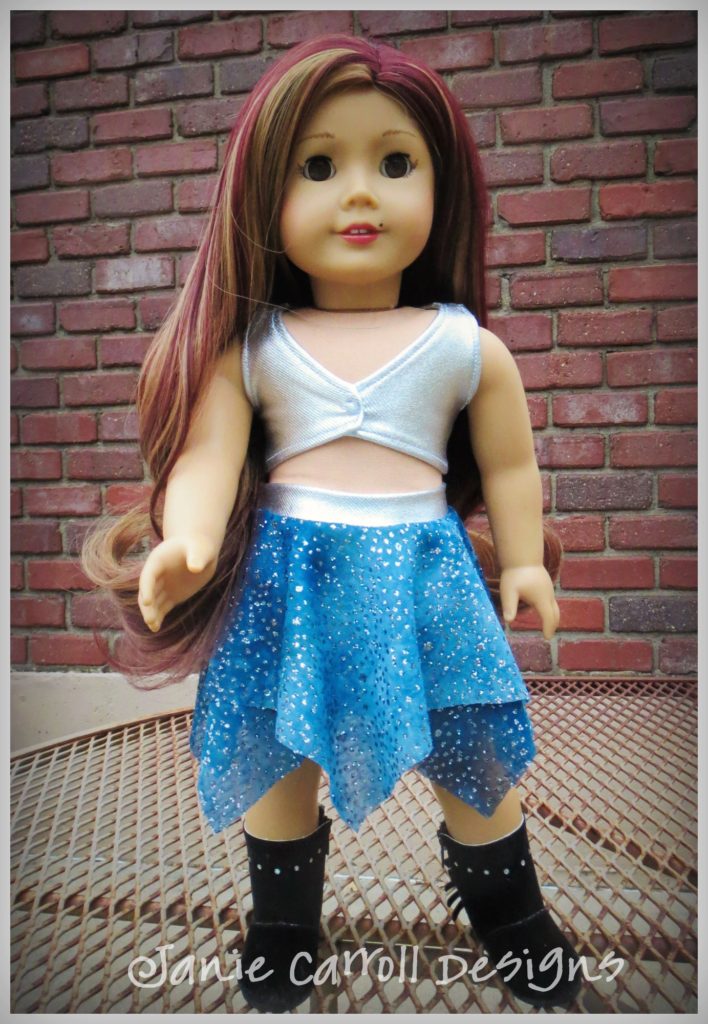 The delicious result of all of this thought was the Candy Shoppe Circle n Crop pattern.
As luck would have it,
once the pattern work was under-way
I became aware of a popular trend related
to TV personality, JoJo Siwa.
With a signature style of flirty skirts, pastel color mixes and
enormous hairbows?
I incorporated this into some of the cover garments
and added my favorite 'Big Bow' hairbow template.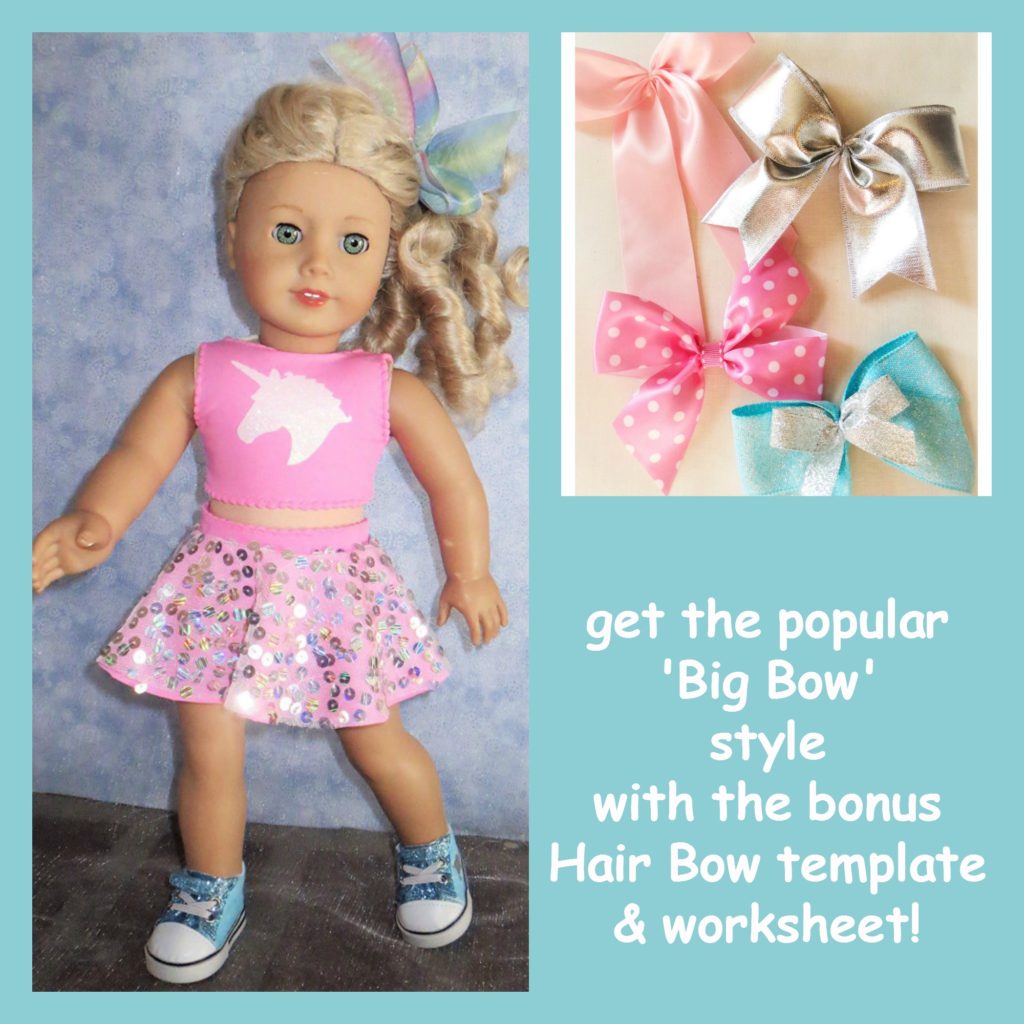 Here is the final cover.
Lots of different ideas – all took time to develop.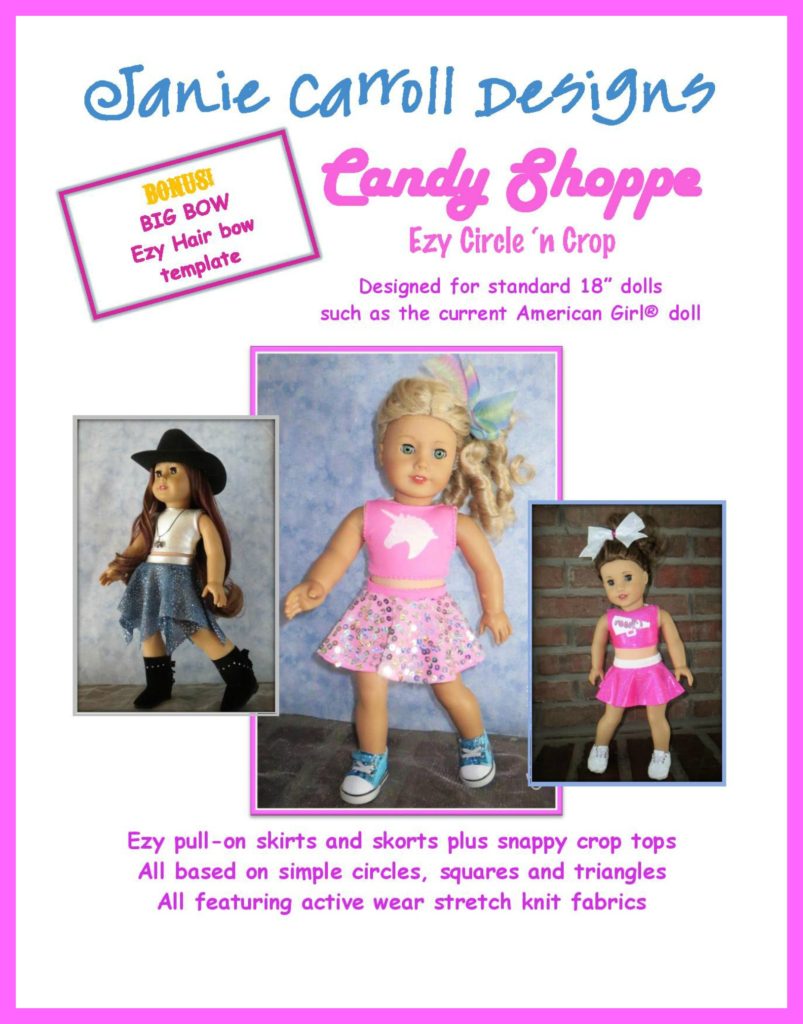 Give ideas time to drift around in your mind.
Try things.
Don't expect every idea to work,
or to work effortlessly.
Take a meandering journey from original concept
to finished product.
See if you don't end up in a delightful new location.