There's a learning curve to everything, isn't there?
Fifteen years ago my daughter wanted
a 'real' American Girl brand doll.
We were not in a position to get one.
I chanced upon a clearance sale for
what appeared to be a similar doll,
called a 'Storybook Heirlooms' doll.
It was an 18″ doll and to my un-trained eye
it looked
'The Same'.
I was soon disabused of that silly notion!
The first thing we discovered was that her fingers on one hand
spread open rather ridiculously wide.
The result was that her hand would not fit through fitted long sleeves!
And that brings me to an important concept
in fitting when sewing doll clothing.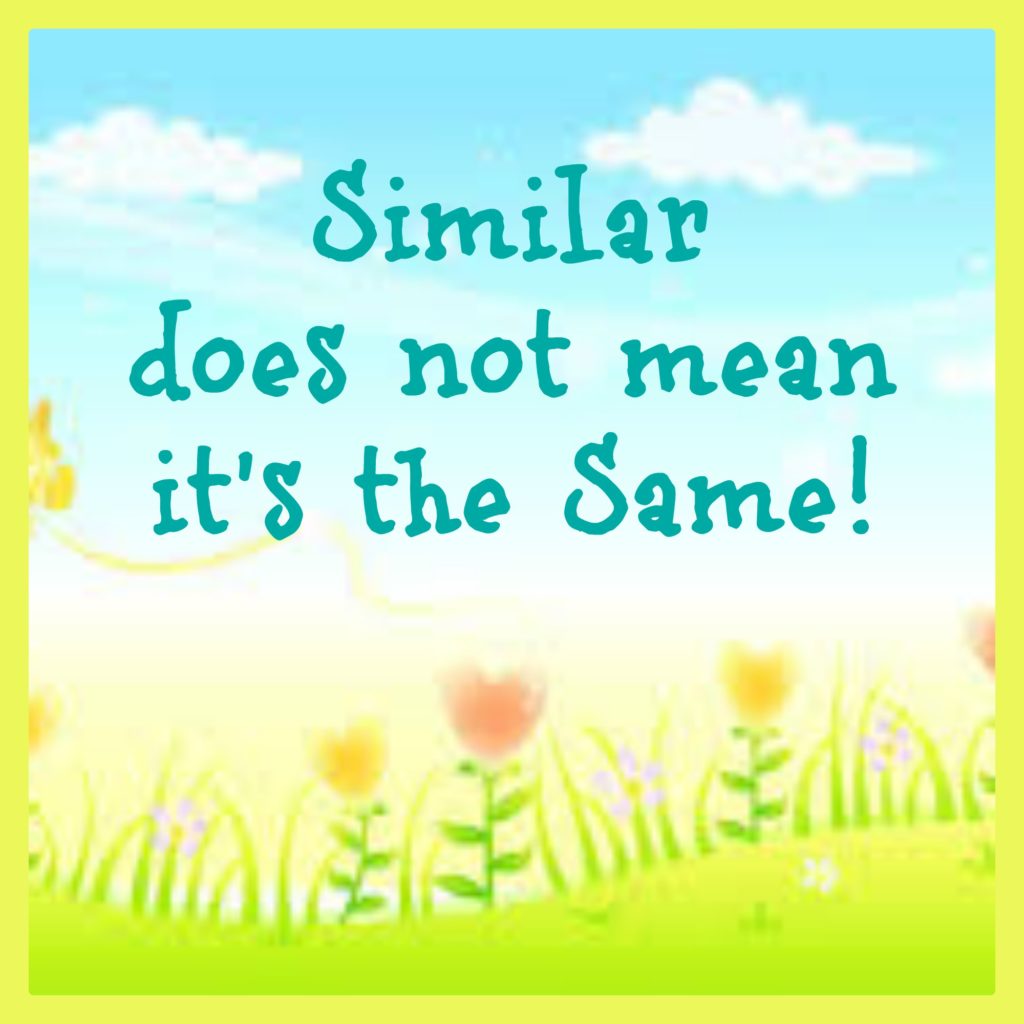 Once you've got that idea firmly in mind,
consider another important companion thought: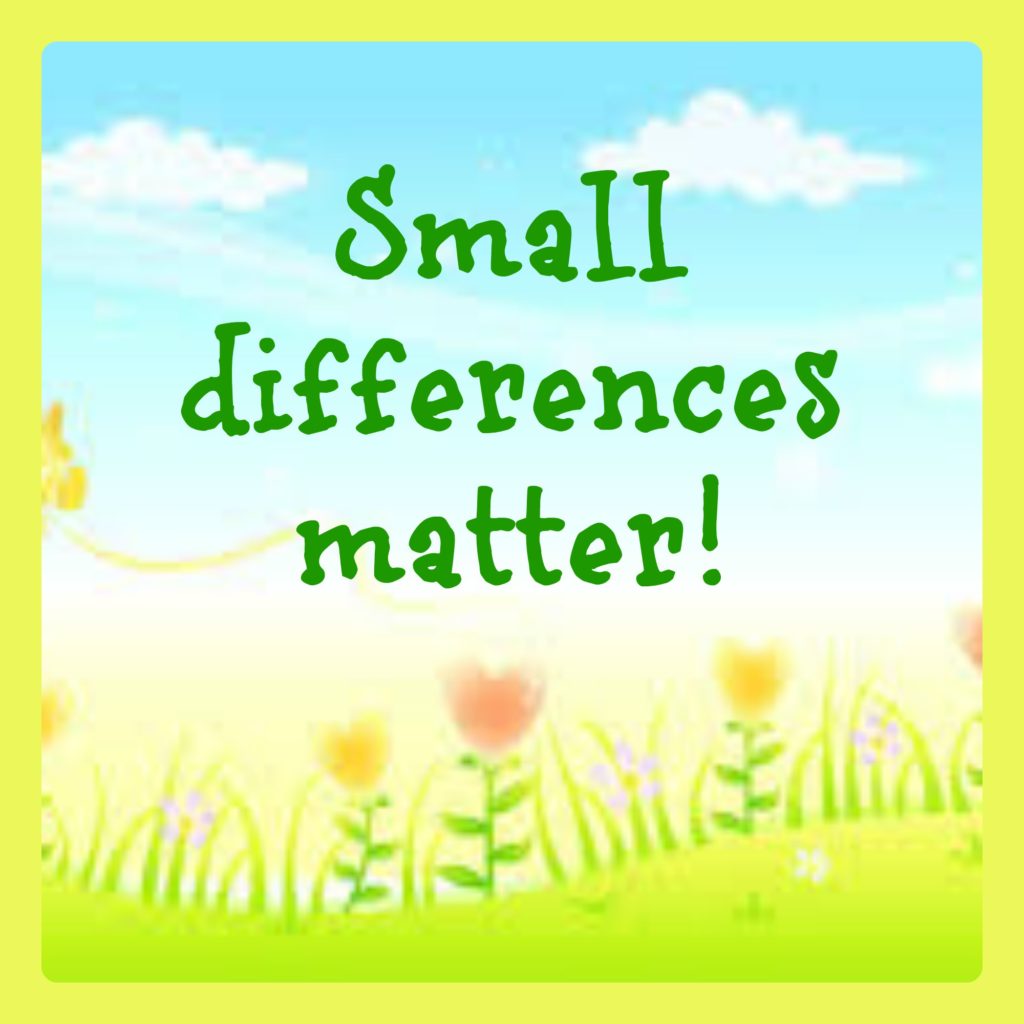 They not only matter?
They matter a LOT!
If you've been following along,
you know I recently released the Super Skort Plus pattern
for standard 18″ dolls.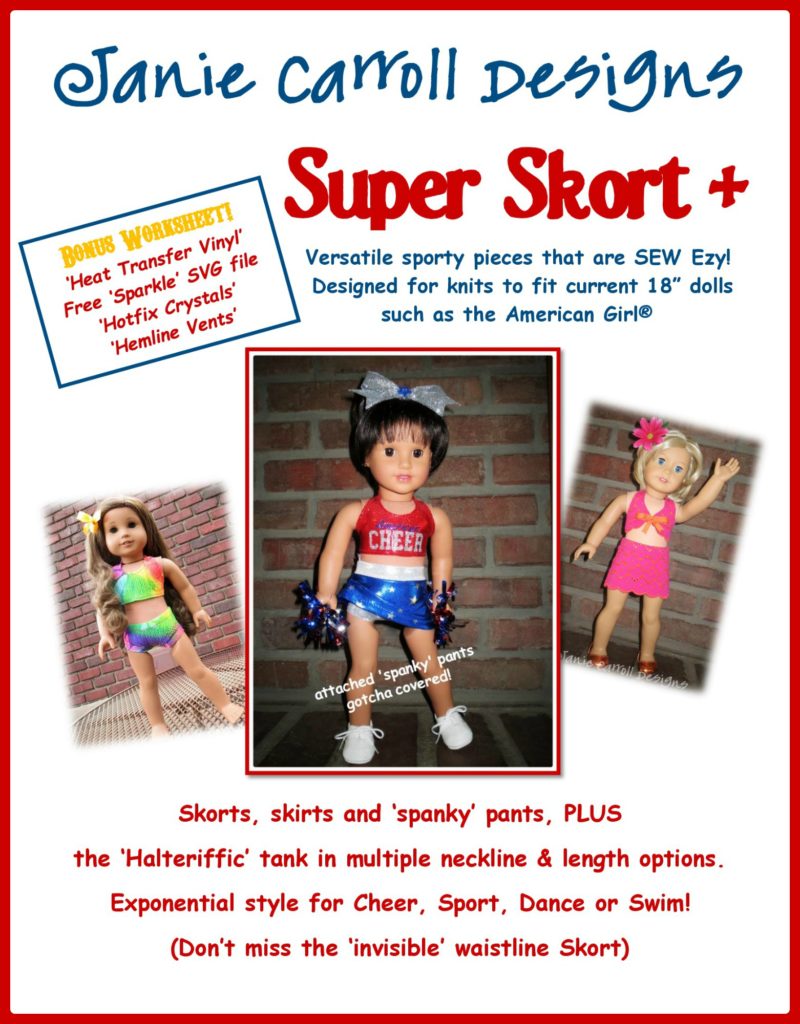 I've just begun work on resizing this pattern for our friends
the Slender 18″ dolls.
These include the Journey Girls, the Kidz n Cats dolls, and Fancy Nancy
to name a few.
If we expand our parameters just a bit
we can also include the 19-20″ slender dolls
such as the Gotz Hannah, Toys R Us 'Claudia', and Maru.
None of their measurement vary a whole lot.
But they all vary some.
And it makes a difference.
Here are some fun photos to think about.
I made one sample suit to test my measurements.
I then photographed the same suit
on three different models.
Here are the results, along with my notes…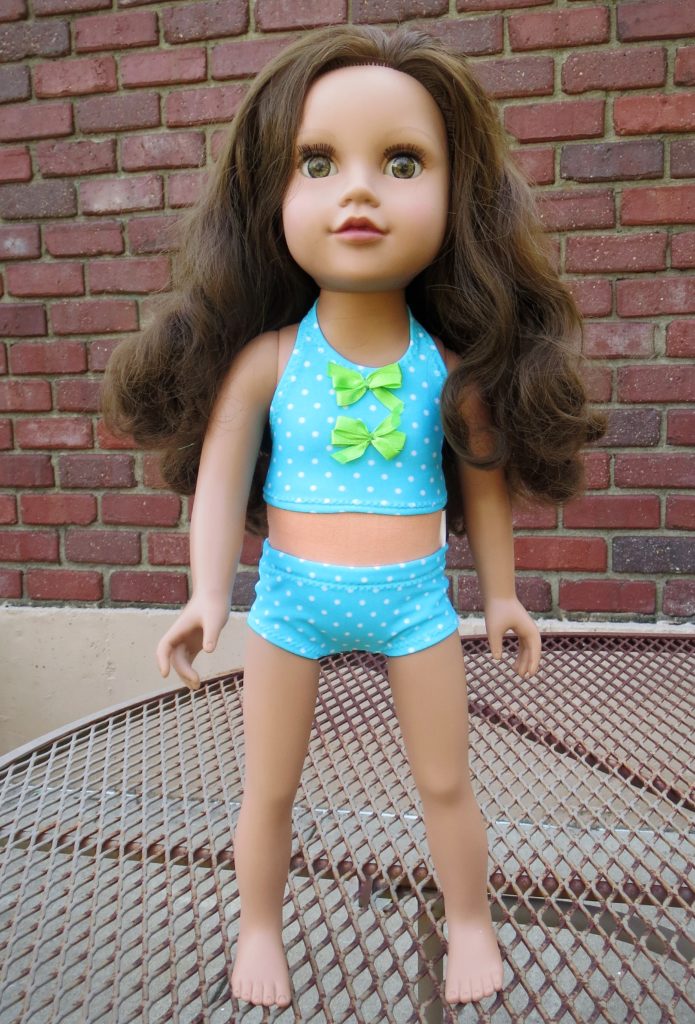 First up is my Journey Girl.
The suit fits her really well!
Poor girl, she has no backside view.
Flat as a pancake back there!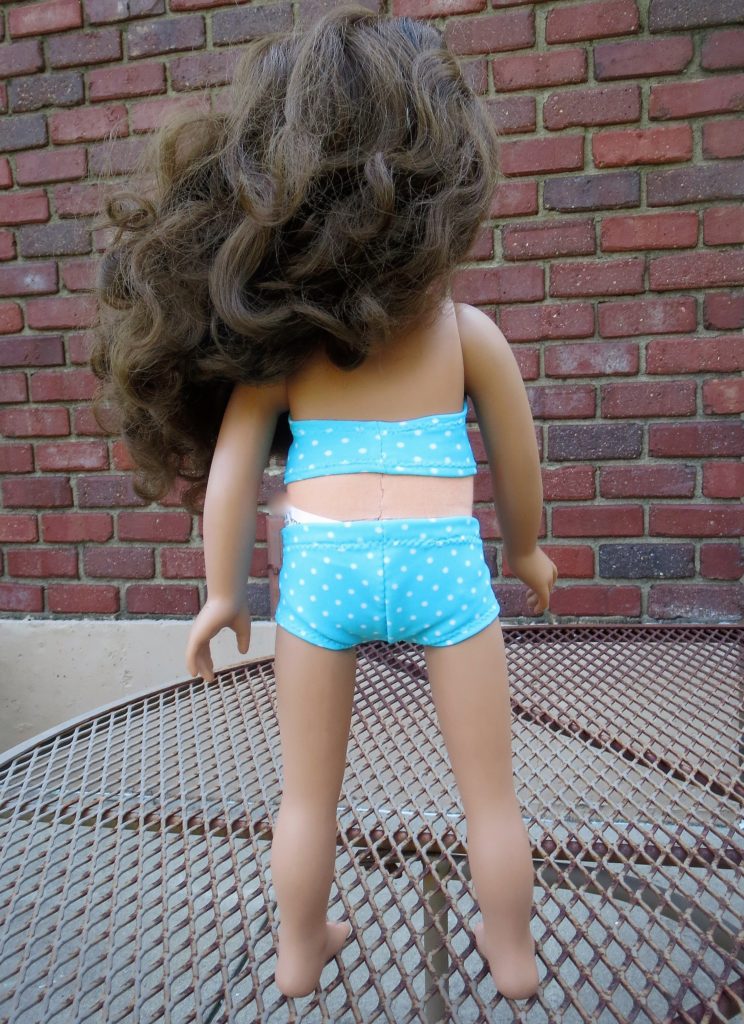 I should have taken a profile shot so you could see this more clearly.
Little Miss 'No Butt'!
Next I tried the suit on my Gotz Hannah
also known as my namesake doll, Janie Carroll.
Forgive her hair, she had an unfortunate experience
with her hairdresser.
Silly woman didn't know what she was doing.
(wonder who that could have been!)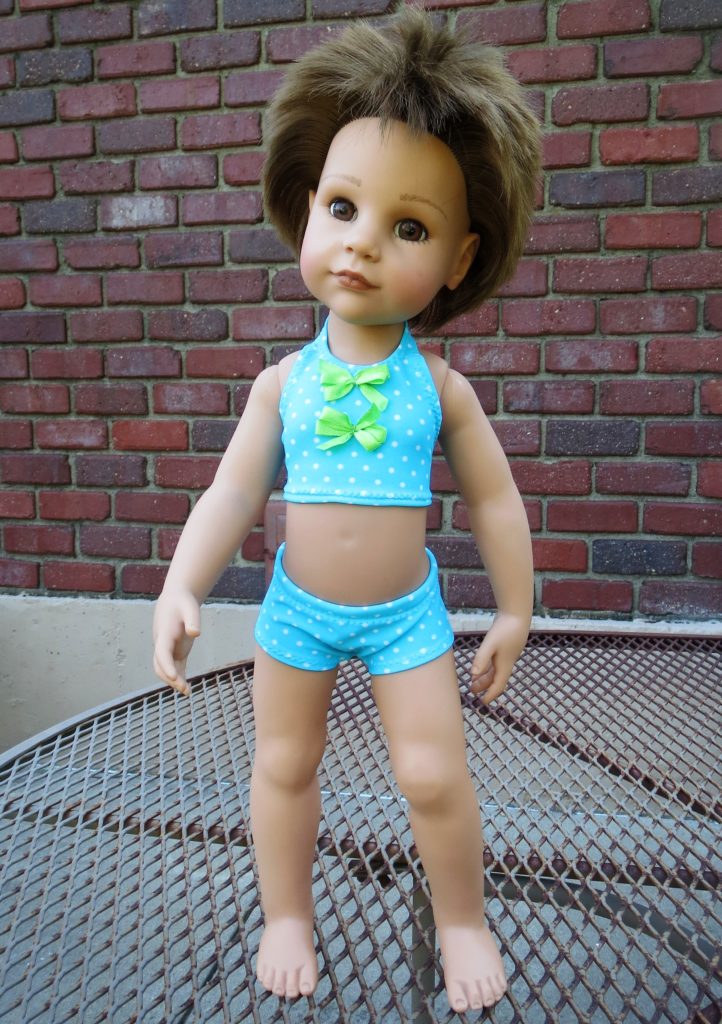 The suit is adorable on Janie Carroll,
but wow, it sure doesn't look the same does it?
For starters, JC is 19″ tall. She also has an entirely different figure.
While the Journey Girl has more of a preteen look about her,
the Gotz doll has a decidedly juvenile, or pre-school-ish figure.
She is a bit sway-backed and her hip/leg joints cause the suit to fit her differently.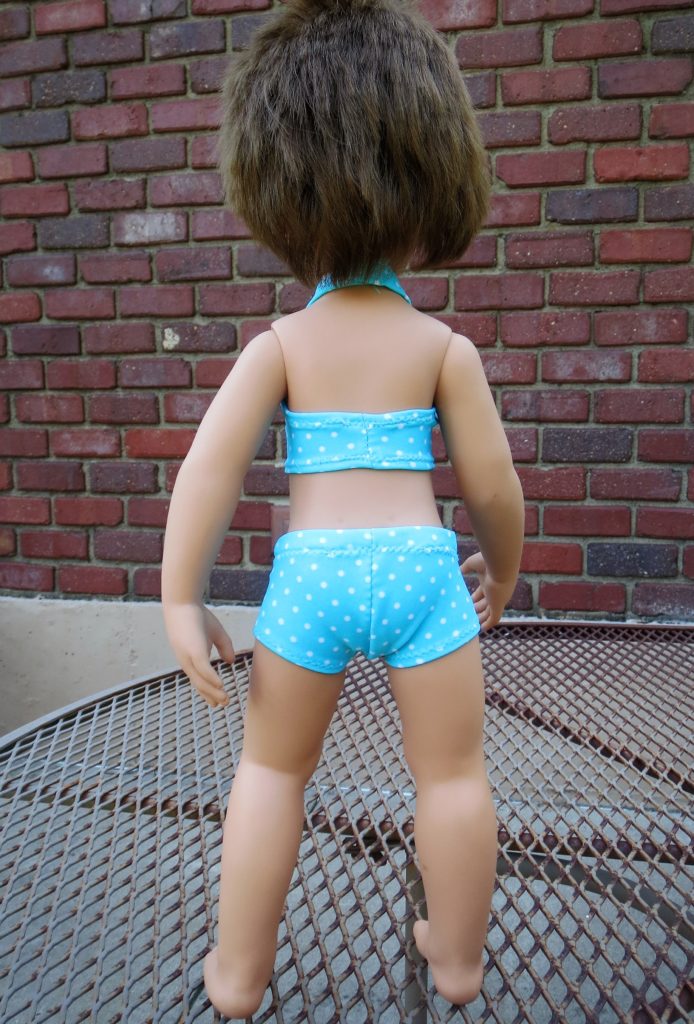 Last of all, I put the same suit on my Fancy Nancy doll.
This little gal makes me laugh every time I see her!
That impish face!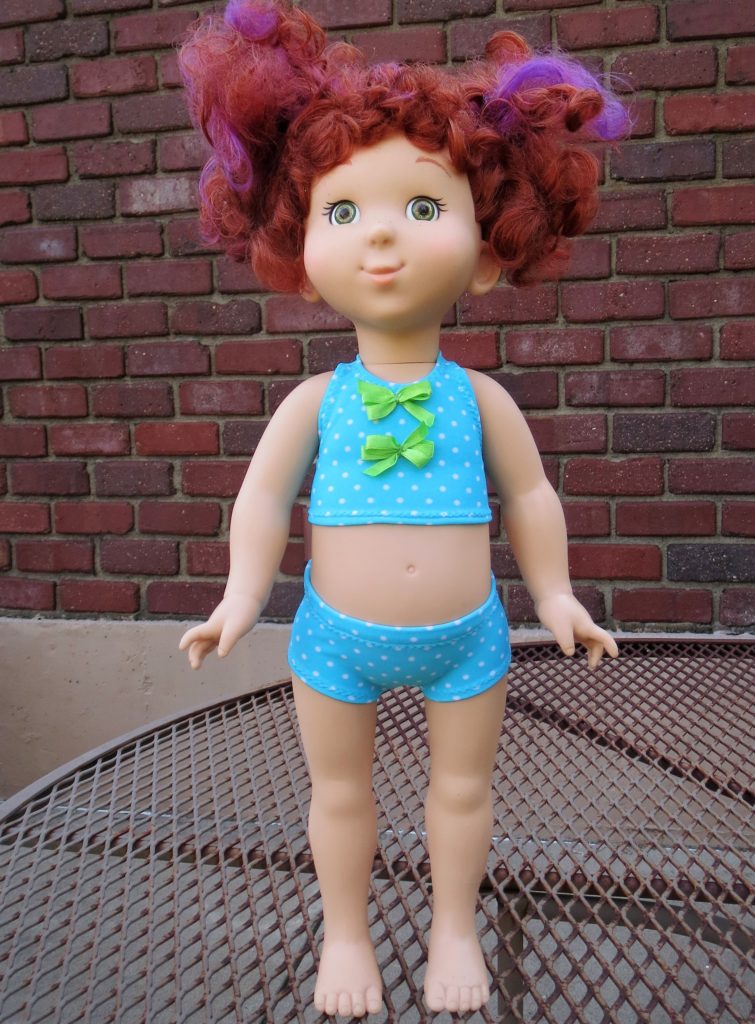 and what a different look the suit has on Nancy!
Wow, it scarcely seems to be the same suit
(I swear it is!)
Nancy has a very pronounced tummy and sway back.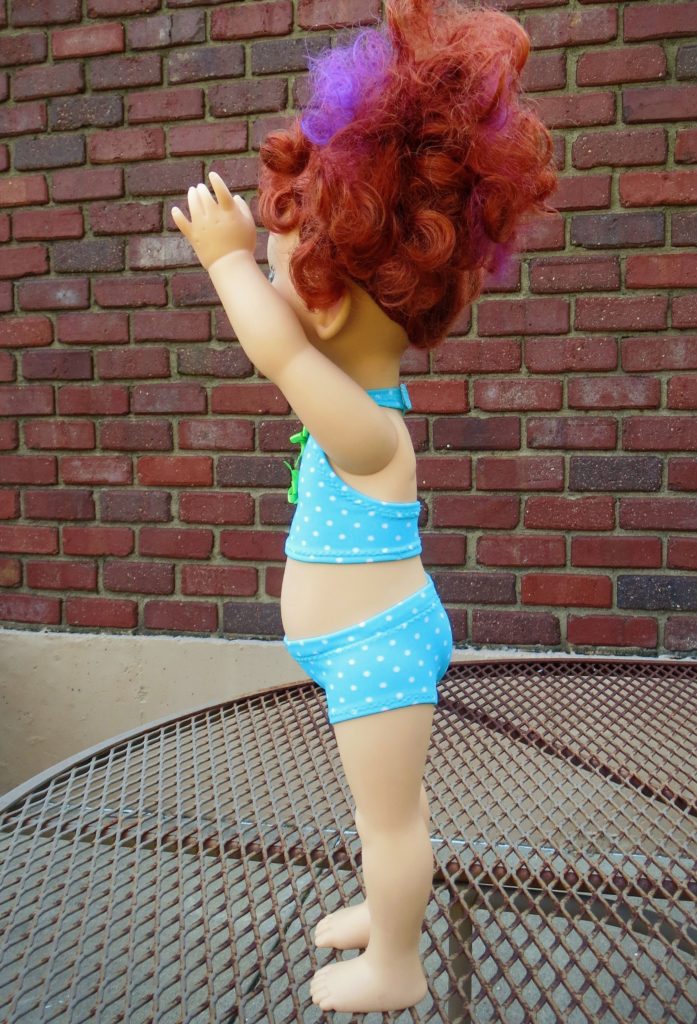 Note the 'set' of the waistline on the spanky shorts?
The crotch is centered between her legs but the effect of the figure differences
means the whole look is just…different!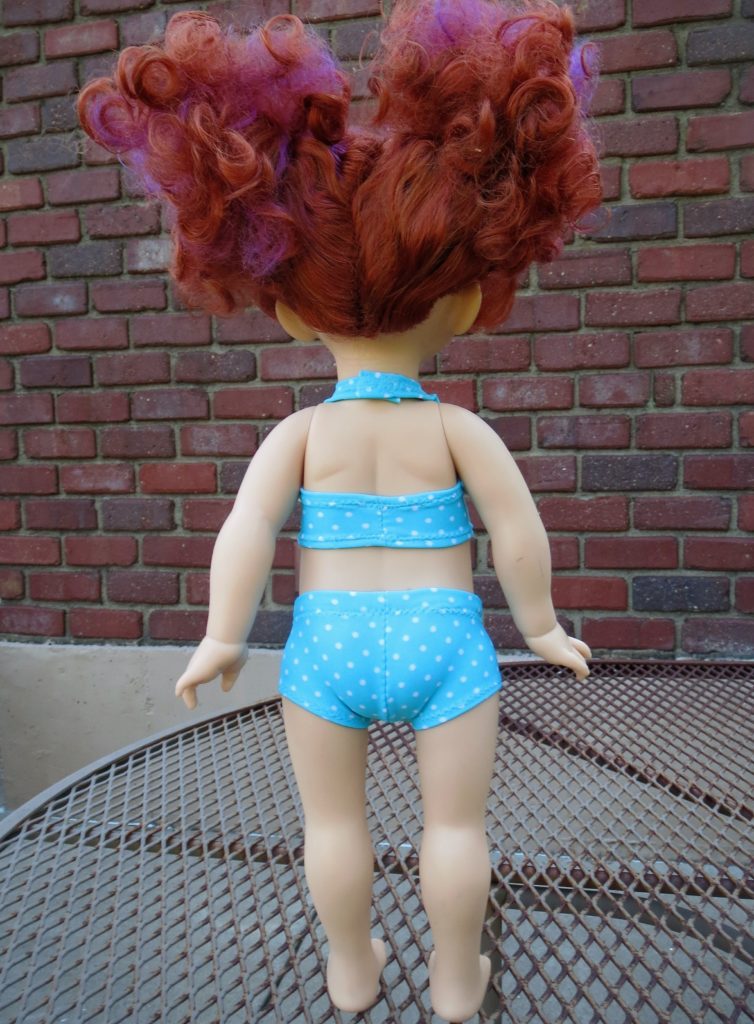 Nancy also has a cute backside view.
In my opinion,
all three of the girls look great in this suit.
They do, however,
look
DIFFERENT!
So, the lesson here is to realize
that even if a pattern technically fits a
particular doll,
you cannot expect the style effect
to be the same!
Stay tuned.
Lots more testing ahead but
resizing continues…
Hope you all stopped by my etsy shop and picked up
your own 'Super Skort Plus' pattern
for standard 18″ dolls.
get it here:
Super Skort Plus pattern for standard 18″ dolls
Enjoy! See you soon!